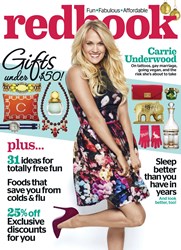 Topricin Foot Therapy Cream is presented to Redbook readers as a silky, moisturizing cream with natural medications.
Rhinebeck, NY (PRWEB) December 05, 2013
Happy healing for Holiday 2013! No more socks, no more sweaters, just safe, natural, one-size-fits all pain relief.
Topical BioMedics, Inc. is proud to have its Topricin Foot Therapy Cream featured as a top recommended gift idea for the holiday season in the popular women's magazine Redbook.
Available in print or online, Redbook is published by the Hearst Corporation, and is considered one of the "Seven Sisters," a group of women's service magazines. Carrie Underwood livens up the cover of the magazine's all-new December issue that is full of gift recommendations, along with fashion deals, beauty tricks, weight-loss secrets, and ways to be happier. In the current issue, on newstands now, Topricin Foot Therapy cream is presented to Redbook readers as a silky, moisturizing cream with natural medications. It is perfect for traveling, wearing high-heels, treating injuries, and other painful conditions. Ideal for the whole family, Topricin makes a great stocking stuffer!
Writer Liz Kraus for The Examiner.com confirms why Topricin is a must-have in December:
"Standing in long lines for hours waiting for a store to open its doors, rushing down the aisles, bumping elbows and shopping carts with other moms and dads all on the same hunt for the perfect holiday gift score -- chances are you're going to come home with an aching back and sore leg muscles...Well, I've found a safer solution for topical pain relief called Topricin. It's formula is natural, odorless, greaseless, and non-irritating, with no parabens, and contains 11 homeopathic ingredients...This is something that does not merely MASK your symptoms - it works with your body to HEAL what is causing your pain. When you use a smelly ointment with camphor or menthol, you shut down the body's natural healing process. THIS stuff actually helps to drain the toxins that is causing your pain..." http://exm.nr/IG47gz
Wholly in the gift-giving spirit….Hoping to share the good news of pain relief….Topical BioMedics, Inc., is hosting an online Facebook Contest:
1. Spot Topricin in Redbook Magazine
2. Snap a photo
3. Submit the picture on Topricin's Facebook contest page and 10 winners selected at random will receive 2oz tubes of Topricin Foot Therapy cream
More details on the Topricin + Redbook Holiday Contest can be found at http://on.fb.me/1hA6wI2.
Also recommended by parents and pediatricians around the globe, a great gift idea for kids is Topricin's Boo Boos Happen First Aid Kit: http://bit.ly/1k2pm7z.
Winner of the Parent Tested/Parent Approved (PTPA™) Seal of Approval, Topricin for Children is a safe, natural alternative to over-the-counter chemical-based pain pills. And parents can feel good knowing that Topical BioMedics, makers of Topricin for Children, donates 5% of all sales to pediatric cancer care.
The Boo Boos Happen first aid kit includes: a tube of Topricin Junior and 'Ouchies' self-adhesive boutique bandages that kids can decorate themselves, creating a design with the markers that are included. The handy zippered blue bag is perfect for tucking in other essentials and is recyclable.
Topical BioMedics, Inc wishes everyone a peaceful season, without pain.
About Topical BioMedics, Inc.:
Topical BioMedics is the research and development leader in topical patented natural biomedicines for pain relief. The company's flagship product, Topricin® Pain Relief and Healing Cream, was introduced in 1994 and is now a leading natural therapeutic brand. The formula has the distinction of being the only topical patented for the treatment of the pain associated with neuropathy and fibromyalgia.
Topricin was awarded a Parent Tested/Parent Approved Seal of Approval, and was selected as a 2012 Top 100 Green Products by Healthy Holistic Living. Other formulas in the product line include Topricin Foot Therapy Cream and Topricin Junior for children (with 5% sales donated to pediatric cancer foundations).
All Topricin products are made in the U.S.A., formulated with approved medicines as found in the HPUS (Homeopathic Pharmacopoeia of the United States) and are in compliance with federal rules for homeopathic over-the-counter medicines. The products contain: no parabens, petroleum or harsh chemicals, are odorless, greaseless and non-irritating, and produce no known side effects, making them ideal and safe for the entire family.
Topricin is available in pharmacies, natural food stores, and retailers nationwide, including Whole Foods, The Vitamin Shoppe, Fred Meyer, Wegmans, CVS (Foot Care Section), Walgreens (Diabetic Section) and other fine stores, as well as directly from the company. For more information, visit http://www.topricin.com.
About Redbook Magazine:
Redbook is a trusted friend, personal shopper, and stylist in one. Part of Hearst Corporation, Redbook scours the market, curating the very best products and ideas to help readers enjoy her nonstop life. Because she wants to look good, Redbook brings her the smartest beauty discoveries, the latest anti-aging breakthroughs, and step-by-step tutorials. Because she wants to feel good and take care of her family, Redbook makes fitness easy, healthy eating delicious, and shares the latest news from top doctors. And because she loves great style, Redbook brings her hundreds of amazing fashion and home décor finds. As an iconic brand thriving in print, online, mobile and social, Redbook makes every day fun and fabulous for nine million readers.
###