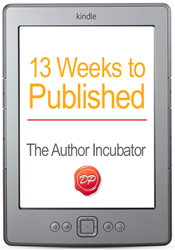 13 Weeks to Published will make your dream of becoming a published author come true. Small incremental deadlines, plus the coaching, expertise, and help every step of the way made the process completely manageable. - Author, Caren Albers
WASHINGTON, D.C. (PRWEB) December 04, 2013
The Difference Press, a small press offering a "boutique alternative to self-publishing," is announcing today the successful completion of their pilot "13 Weeks to Published" program. Ten books by as many authors will appear today in Amazon.com's Kindle Store, available for immediate download. The ten books are on subjects as diverse as weight loss, neuroscience as it applies to the Law of Attraction, cypherpunks and the failing US war on drugs, and GMO foods and their relation to autoimmune disease.
All ten books were completed, start to finish, in the thirteen week cycle of the 13 Weeks to Published program. Program lead and Difference Press founder, Dr. Angela Lauria, made the pilot program available to a small number of participants in September, 2013, and worked individually with the authors and her team of small press professionals to shepherd the books through every phase of the writing and design process, including submission to Amazon.com's Kindle Singles platform, a technical process that can be difficult to navigate for the uninitiated.
"When I came up with the idea for the Kindle Singles pilot, it was really a challenge to myself to see how many authors I could get to crank out a book," Lauria said, when reached for comment. "I guessed half of the participants would be able to keep up the pace we set for them and make it to the end of the thirteen weeks with a finished book, but I was wrong. All ten participants in the pilot program who started their book finished it."
The books published in this initial round are:

Happiness Junkie: A 12 Step Program to Find Inner Peace and Change Your Life by Caren Albers [Self-Help]
Running with Curves: Why You're Not Too Fat to Run, and the Skinny on How to Start Today by Jill Angie [Fitness]
Skeptic's Guide to Intuition: How Developing Intuition Can Improve the Way You Live and Work by Alina Bas [Personal Growth]
Unintended Consequences: How Cypherpunks are Winning the Drug War by Kieran Bell [True Crime]
Give Fat the Finger: How to Lose Weight & Keep it Off by Joella Bower [How To]
Your Everyday Superpower: Can the New Brain Science Open the Door to an Altered Reality? by Janette Dalgliesh [Science]
An Inside Job: 5 Steps to Anxiety Relief by Bethany Eaton [Self-Help]
Foreign Invaders: An Autoimmune Disease Journey through Monsanto's World of Genetically Modified Food by Dara Jones [Essay]
August: A True Story About Love, Sex, and Entrepreneurship by Mike Hrostoski [Memoir]
Ceiba's Grace: A Paranormal Romance Novella by Nicole Pouchet [Fiction]
The next phase of the 13 Weeks to Published project opens for registration on January 8th, 2014, with pre-registration applications being accepted for the next round from December 9th, 2013, and will be limited to twenty participants. The program, a thirteen-week live workshop and writing program, which includes editing, design, book marketing strategy, culminates with the publishing of an ebook on the Kindle platform.
For more information visit: http://www.13weekstopublished.com. Dr. Lauria is available for comment or interview. For booking information or more details on the 13 Weeks to Published program, contact Jessie Sessions at Jessie(at)theauthorincubator(dot)com, or via phone at (860) 576-9475.