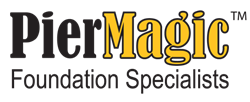 It just made sense to bring our patent-pending DynaPier System to areas where expansive clay soils are causing the most damage to the most homes. - Matt Price, Owner, PierMagic Foundation Specialists
Kansas City, MO (PRWEB) December 03, 2013
PierMagic Foundation Specialists, with locations in Kansas City and St. Louis, MO, recently expanded to a 5-state area opening offices in Tulsa, Memphis, Jackson, Dallas/Ft. Worth, Austin, and San Antonio. The South and Midwest regions of the country are prime areas for foundation problems. The expansive clay soil so common across these regions causes severe soil shifting when either drought or rainy conditions persist. The recent drought conditions across the Midwest means there are plenty of homes in these states needing foundation repair. Couple that with the slowdown of residential construction over the last few years (which means homeowners are staying in their homes longer), and the demand for foundation repair is on the rise.
Their foundation repair system, the DynaPierTM System, developed by owner, Matt Price, consists of interlocking segments comprised of high-strength concrete that is pre-cast in a steel sleeve and hydraulically driven into the ground under the foundation. Founded in 2007, PierMagic Foundation Specialists offers foundation repair, piering and replacement along with basement waterproofing, sump pump installation, and mud jacking/poly jacking services. To learn more about the DynaPierTM System or PierMagic Foundation Specialists, visit PierMagic.com.
PierMagic Foundation Specialists web design and marketing provided by MarketingXchange.