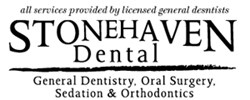 Salt Lake City, UT (PRWEB) December 03, 2013
Seemingly every monetary service is increasing in price, causing individuals and families to sacrifice important necessities, such as dentistry. Stonehaven Dental offices in Salt Lake City provide alternative options and flexible pricing for families that are feeling an economic strain. They offer referral plans that allow people to earn credit, as well as a variety of payment plans that cut expensive and unnecessary costs. New patients are reaping the benefits through a special offer: Stonehaven is providing their new patients with no cost exams and x-rays. The office is known for offering fresh baked cookies, guided tours, and making their patients feel comfortable and at ease. For individuals who need wisdom teeth removal, cleanings, or root canals in Utah, Stonehaven's introductory offer is proving too enticing to pass up.
Stonehaven has a firm stance that money shouldn't impact the ability to receive quality dentistry. This new patient offer allows individuals to receive a no cost exam and x-ray to ensure the health of their teeth. In addition to this special offer, Stonehaven has also introduced a Comprehensive Dental Plan for individuals without insurance. It boasts an affordable membership that covers periodic exams and offers discounts on necessary procedures. These discounts range from 25% off to 100% coverage. Major procedures such as fillings, crowns, and root canals in Utah are all discounted by 25%, providing the individual with the affordable care they need. The plan forms are available online, providing convenience for new patients looking for affordable dentistry.
Stonehaven strives to provide affordable options because they know the importance of good dental care. Oral health is directly related to an individual's all over health, making it vitally important to receive quality dental work. Money should never be a reason to sacrifice oral care, causing Stonehaven to provide affordable offers for their patients. With no cost new patient exams and x-rays, more individuals are able to take advantage of the services provided by Stonehaven. For more information about their special offers, visit their website at http://www.stonehavendental.com/.