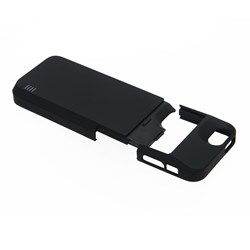 Dallas, TX (PRWEB) December 04, 2013
Holiday shoppers who think they missed their golden opportunity to snag a bargain now that Black Friday and Cyber Monday are in the books can still score a great deal. In fact, thanks to a seasonal partnership with Best Buy, they can get the holiday's very best pricing on an OnTrion LifeCHARGE™ Battery case for the Apple iPhone 5 / 5s now through December 7.
A CNBC (http://www.cnbc.com/id/101239133) report released Monday has declared that "Apple could be the big holiday shopping winner." The article goes on to explain, "Piper Jaffray analyst Gene Munster reports that his analysis of Black Friday and Cyber Monday tweets show that the iPad and iPhone 'appear to be among the top gifts for 2013.'"
All that demand is sure to bring along with it a plethora of iPhone 5 accessories, but how are shoppers to gauge which ones actually deserve their attention? If they are in the market for an Apple iPhone 5 battery charger, they'll want to look for one that is MFI approved. They'll also want to find one that's sold through a reputable distributor like Best Buy.
"Many of the brands that are selling through Groupon and Amazon might look appealing in terms of their low cost, but they are being sold by third parties who don't carry the same kind of clout or reliability that those that Best Buy stocks do," cautions OnTrion's spokesperson. "We take pride in the fact that our LifeCHARGE Battery case for the Apple iPhone 5 / 5s offers more than these other brands can. And now, through our holiday partnership with Best Buy, the product is competitively priced at its lowest cost this season."
Indeed, through December 7, the MFI-approved LifeCHARGE Battery Case for iPhone 5 / 5s in Black (Model: ONT-PWR-35171) will be on special sale at Best Buy (SKU: 2601165). Best of all, by purchasing the battery case through Best Buy, shoppers can take advantage of the retailer's Holiday Low Price.
For additional information on the LifeCHARGE battery case for iPhone 5, visit the company on the Web at http://www.ontrion.com/LifeCHARGE_Battery_Case_for_iPhone_5_p/ont-pwr-35171.htm. To learn more about the superior extended life features the product offers, contact OnTrion's Palki Kochar.
###
CONTACT INFORMATION:
Palki Kochar
13650, TI Blvd., Suite #309
Dallas, TX 75243
972-497-9933
http://www.ontrion.com