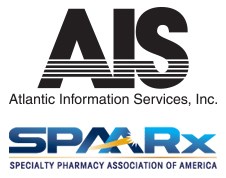 (PRWEB) December 06, 2013
Atlantic Information Services, Inc. (AIS) is pleased to announce it has entered into an agreement with the Specialty Pharmacy Association of America (SPAARx) that will provide SPAARx members with regular opportunities to obtain specialty pharmacy products and services from AIS with a special member discount. Under the new arrangement, AIS's monthly newsletter Specialty Pharmacy News, specialty pharmacy webinars and specialty pharmacy virtual conferences will available to SPAARx members at a preferred rate.
Designed for health plans, specialty pharmacies, PBMs, pharma companies, providers and employers, Specialty Pharmacy News contains valuable insights into benefit design tactics, specialty markets for certain conditions, formulary decisions, merger and acquisition activity, payer-provider partnerships, patient adherence strategies, and new products. Learn more at http://aishealth.com/marketplace/specialty-pharmacy-news. AIS's specialty pharmacy webinars and virtual conferences provide actionable intelligence to attendees and permit them to interact with industry leaders on complex, important topics in the field. For a list of upcoming and recent events, visit http://aishealth.com/marketplace/webinars.
About SPAARx
The Specialty Pharmacy Association of America (SPAARx) is a free-standing, national organization, representing the interests of the specialty pharmacy industry. SPAARx is an industry-neutral, mission-driven organization governed by a board of directors comprised of executives from a diverse group of specialty pharmacies. SPAARx works to set guidelines for the industry and the delivery of the unique services that differentiate specialty pharmacy from traditional pharmacy; advocating for important legislative and regulatory issues that impact all specialty pharmacies nationally, and helping to advance the professional and personal development of those working in specialty pharmacy settings. Learn more at http://spaarx.org.
About AIS
Atlantic Information Services, Inc. (AIS) is a publishing and information company that has been serving the health care industry for more than 25 years. It develops highly targeted news, data and strategic information for managers in hospitals, health plans, medical group practices, pharmaceutical companies and other health care organizations. AIS products include print and electronic newsletters, websites, looseleafs, books, strategic reports, databases, webinars and conferences. Learn more at http://AISHealth.com.
Contact:
Jill Brown, Executive Editor
Atlantic Information Services, Inc.
202-775-9008 ext. 3058
jbrown(at)aishealth(dot)com