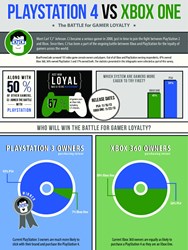 PlayStation 3 owners proved to be almost twice as loyal as Xbox 360 owners.
Los Angeles, CA (PRWEB) December 04, 2013
BluePromoCode.com, a leading marketplace for coupons and deals, has published the findings of a survey in a trend report that compares brand loyalty between Microsoft Xbox and Sony PlayStation gamers.
The survey was answered by 155 participants. Two separate groups of participants were surveyed via SurveyMonkey: current video game console owners of any age and console owners between the ages of 18-25, all in the United States. The survey revealed that PlayStation 3 console owners are far more loyal than Xbox 360 owners.
According to the BluePromoCode survey, gamers were split between Xbox and PlayStation as their first system in the ongoing Microsoft vs. Sony feud. Today, 57% of current generation video game console owners own an Xbox 360. This should indicate that Xbox would have the advantage heading into the holiday season.
However, the BluePromoCode survey found that Xbox 360 owners were just as likely to purchase an Xbox One (50%) as a PlayStation 4 (50%), indicating a split in brand loyalty. PlayStation 3 owners proved to be almost twice as loyal as Xbox 360 owners: 93% of PlayStation 3 owners said they intended to purchase a PlayStation 4 over an Xbox One (7%).
Both the PlayStation 4 and Xbox One debuted last month to over 1 million sales each in their respective first 24 hours from retailers like Best Buy and GameStop. The BluePromoCode survey results come just in time for the holiday season and the heated battle between the Xbox One and the PlayStation 4.
In tandem with their PlayStation loyalty findings, BluePromoCode has launched a PlayStation 4 Holiday Giveaway set to close on Wednesday, December 11th at 12PM PST. To enter the giveaway, follow the instructions on the BluePromoCode blog.
About BluePromoCode.com
BluePromoCode, based in Los Angeles, is a leading coupon search engine used by millions of consumers to help them save the most money on their purchases. The website partners with 12,000 retailers to bring over 100,000 coupons to its users and its editors hand-check coupon codes to ensure the highest quality ones rise to the top. BluePromoCode also offers personalized emails so members can receive the best deals for the brands they love directly in their inbox. Learn more at bluepromocode.com.