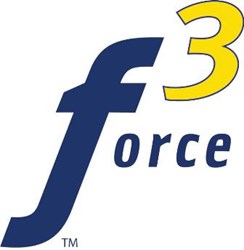 It is a privilege to be named EMC's Federal Civilian Partner of the Year.
Crofton, Md. (PRWEB) December 11, 2013
Force 3, delivering the best in federal security, unified communications, networks, data center, and medical imaging solutions, today announced it has been recognized with an EMC Corporation Federal Partner Award during the EMC® Federal Partner Executive Summit in Leesburg, VA, from October 22-23, 2013.
The EMC Federal Partner of the Year awards honor high-achieving EMC Federal Business Partners who demonstrate a commitment to excellence through innovation and thought leadership. The criteria for the awards include innovative solutions, unparalleled customer service, revenue generated, and a commitment to customer success.
Force 3 was recognized with the 2013 EMC Federal Civilian Partner of the Year Award.
"It is a privilege to named EMC's Federal Partner of the Year," said Michael Greaney, President at Force 3 Federal. "We are proud of the work we have done with EMC to provide our federal customers with the ability to transform their information technology and business operations using innovative EMC products and solutions. This recognition reflects our organization's shared pride in supporting the missions of our Public sector customers."
"We are honored to work with Force 3 because of their deep understanding of the Federal mission." said Dan Dougherty, Vice President, Federal, EMC Corporation. "Our Federal channel partners combine that knowledge with EMC Cloud, Big Data and Trust solutions to deliver innovation to our government and citizens. Federal is more than a market – it's a community, so these relationships are more important than ever. We look forward to the opportunity to continue to work with Force 3 and all our partners to deliver leading edge solutions that transform government."
About Force 3
Force 3 is the trusted provider of Data Center, Communication and Collaboration, Borderless Networks, Cyber Security services, and Medical Imaging Solutions for Federal agencies, Enterprise organizations and their key partners. With headquarters in Crofton, Md. and offices in Herndon, Va., for over two decades Force 3 has delivered and supported cost-effective IT solutions for the Federal government and industry. At Force 3, we have a relentless focus on our customers' success through innovation, unique solutions and highly trained, passionate people. For more information, please visit http://www.force3.com.
Additional Resources:

Keep in touch with EMC Federal on Twitter – @EMCPublicSector and at our Public Sector Blog
###
EMC is a trademark or registered trademark of EMC Corporation in the United Stated and/or other countries.