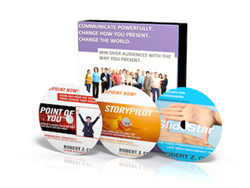 Too many presenters are like zombies on stage. You can change your presenting fast and be more powerful if you know three key techniques."
Los Angeles, CA (PRWEB) December 05, 2013
BoldPoint Now, creators of the first comprehensive online presentation training course, has extended its Cyber Monday 'Zombie Free Presentation Zone' 30 percent off promotion through December.
The extended discount is designed to help presenters avoid making the usual "zombie-like presentations" all too prevalent at conferences and meetings. The BoldPoint Now online training system is designed to be a fast, new way to learn professional presentation techniques from the convenience of home, office, or while traveling.
"Most presenters act like the 'walking dead' when they are in front of an audience, but it doesn't have to be that way if you know three basic techniques," said Robert Chew, founder of BoldPoint Now. "With this discount and comprehensive package anyone can become a more powerful, effective presenter fast, and at a very low cost."
The BoldPoint Now System, launched in September, features 18 interactive training videos for any level of presenter or sales person needing to engage audiences, overcome fear, find key messages, build a structured story, and design great slides. With the extended discount the cost of the course is a fraction of the price of live presentation courses, and offers more comprehensive features and techniques.
"Even the most seasoned presenters miss critical elements in presenting, including not fully understanding the power of a strong point of view and having a three-part story structure," said Chew. "Once you understand these basic mechanics, anyone can connect with their audience and keep them focused on your message."
The BoldPoint Now program is designed to help people where "they need help most," according to Chew. "It's designed to rapidly make any presenter more powerful. You can start with creating better slides and then work into storytelling, or start with a building your point of view and story. The goal is to help everyone stand apart from the zombie-like presentations we've all suffered through too many times."
The BoldPoint Now System includes 18 online learning videos, three eBooks, workbooks, templates, and support. For those interested in the extended 30 percent discount they can go to http://www.boldpointnow.com, follow the instructions to the login page, and use the code ZOMBIE when signing up.
About BoldPoint Now
BoldPoint Now's mission is to make everyone the most powerful communicator and presenter they can be. We offer online courses, live seminars, books, and coaching services to improve public speaking, presentations, sale pitches, and brand messaging. Our books can be found on Amazon.com, Barnes & Noble, and other online stores. Learn more at http://www.boldpointnow.com