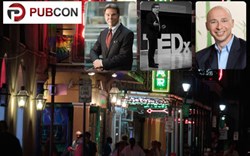 These three dynamic keynote speakers will help make Pubcon New Orleans 2014 the conference of the year in The Big Easy, including an updated multiple-track Pubcon Masters Group all-day training program.
Austin, TX (PRWEB) December 04, 2013
Three tremendous social media and digital marketing innovators are set to highlight the Pubcon New Orleans 2014 conference, with highly anticipated major keynote addresses lined up by online influence expert Dr. Robert Cialdini, author and angel investor Peter Shankman, and bestselling author and noted landing page leader Tim Ash.
TUESDAY KICKOFF KEYNOTE BY ROBERT CIALDINI
Pubcon, the premier social media and optimization conference recently named a Forbes must-attend event, is happy to welcome back Dr. Robert Cialdini, professor emeritus of psychology and marketing at Arizona State University, social psychologist, and author of the bestselling book "Influence: Science & Practice", who will present the kickoff keynote address at Pubcon New Orleans 2014.
Cialdini, an internationally-known expert in the fields of persuasion, negotiation, and compliance, is considered the "Godfather of influence," and his New York Times bestselling book — listed by Fortune Magazine as one of the "75 Smartest Business Books" and by CEO Read as one of the "100 Best Business Books of All Time" — has been published in 27 languages.
"I couldn't be more pleased to have the opportunity to present at Pubcon, which I consider a not-to-be-missed event within the search and social media industry," Cialdini said. "I look forward to documenting how several simple yet powerful principles of social influence can be deployed via electronic media in wholly ethical and dramatically profitable ways," Pubcon New Orleans 2014 kickoff keynote speaker Cialdini added.
"We're delighted to have Dr. Cialdini present a major kickoff keynote address at Pubcon New Orleans 2014 this March 17 – 20 at the state-of-the-art New Orleans Convention Center, where his unique insight into negotiation, influence, sales, management, marketing, leadership, and communication is certain to provide plenty of the actionable 'take-aways' that Pubcon is famous for," said Pubcon founder and chief executive Brett Tabke.
"Along with Malcolm Gladwell and Guy Kawasaki, Dr. Cialdini is one of the highest-rated speakers we have ever had, and we're happy to have him present a longer, more in-depth keynote than we have historically had at Pubcon," Tabke added.
Cialdini, who is Regents' professor emeritus of psychology and marketing at Arizona State University, has conducted extensive bleeding-edge research on why we comply with requests — research that has led to his appearance in Harvard Business Review's "Breakthrough Ideas for Today's Business Agenda."
Among Cialdini's many major corporate clients have been Google, Microsoft, Cisco Systems, Coca Cola, Merrill Lynch, Pfizer, IBM, The Weather Channel, the United States Department of Justice, and his groundbreaking work on influence has been featured in many mainstream publications including ABC, CNN, the London Times, Los Angeles Times, New York Times, Time Magazine, Dateline NBC, CNBC, Washington Post, Forbes, and Business Week, among others.
Pubcon audiences are in for an outstanding treat as Cialdini will captivate with his inimitable perspective on digital influence in a must-attend keynote during March in lively New Orleans, kicking off the week of new media and search marketing exploration that for over 13 years has been known as Pubcon.
WEDNESDAY KEYNOTE BY PETER SHANKMAN
The next keynote at Pubcon New Orleans 2014 will be Wednesday's address by author and angel investor Peter Shankman, principal and co-founder at global consultancy Shankman | Honig.
PR Week magazine has described Shankman as "redefining the art of networking," and Investor's Business Daily has called him "crazy, but effective."
An author, entrepreneur, speaker, and worldwide connector, Shankman is globally recognized for radically new ways of thinking about marketing, customer service, advertising, PR, and social media.
Shankman is currently the co-founder of Shankman | Honig, and is best known for founding Help A Reporter Out (HARO) in 2008, which in under a year became the top website for thousands of journalists on deadline to connect with experts and sources for their stories around the globe. In June of 2010, less than three years after Shankman started HARO in his apartment, it was acquired by Vocus, Inc.
Shankman is also a noted angel investor, specializing in very early stage technology, advertising, marketing, and social media companies.
Among Shankman's many major corporate clients have been American Express, Sprint, The US Department of Defense, Royal Bank of Canada, Snapple Beverage Group, Unum, Walt Disney World, United Airlines, Saudi Aramco, Taj Hotels and Resorts, Peninsula Hotels, Foley Hoag, LLP, Haworth, Abercrombie and Kent, Liberty Safe Company, Discovery Networks, and Harrah's Hotels.
Since 1995, Shankman has maintained an award-winning blog, and he is the author of three books including Nice Companies Finish First: Why Cutthroat Management is over and Collaboration is In, Customer Service: New Rules for a Social-Enabled World, and Can We Do That?! Outrageous PR Stunts That Work and Why Your Company Needs Them.
Shankman has shared his insight with audiences worldwide at events including TEDx and South By Southwest, TBEX Europe, The Public Relations Society of America, CTIA, CTAM, CES, PMA, OMMA, Mobile Marketing Asia, and the Direct Marketing Association, among others, however this will be his first Pubcon event.
Shankman sits on the advisory boards of several companies, including DailyWorth, ScotteVest and Namely, holds a seat on the NASA Civilian Advisory Council, and is a marketing pundit for several national and international news channels, including CNN, Fox News, The Today Show, and MSNBC.
Shankman is frequently quoted in major media and trade publications including The New York Times, The Wall Street Journal, The Los Angeles Times, The Chicago Tribune, The New York Daily News, The Associated Press, Reuters and USA Today.
A Boston University graduate, Shankman began his career at America Online as a senior news editor, helping found AOL Newsroom and spearheading coverage of the Democratic and Republican 1996 conventions, which marked the first time an online news service covered any major political event.
In 2011, Shankman authored a Tweet that was voted as one of the Top Ten Tweets of the year by Twitter and ABC News, out of more than 120 billion tweets sent.
THURSDAY KEYNOTE BY TIM ASH
Tim Ash, bestselling author and chief executive at landing page optimization firm SiteTuners, will deliver Pubcon's third and final major keynote address during Pubcon New Orleans 2014, on Thusday, March 20.
Ash, a noted speaker and leading expert in online conversion, will present a keynote address at one of the year's biggest and most anticipated week's of new media and search learning during Pubcon New Orleans 2014.
A computer scientist and cognitive scientist by education, with PhD studies in neural networks and artificial intelligence, Ash has developed an expertise in user-centered design, landing page testing, and persuasion and understanding online behavior. In the mid-1990s he became one of the early pioneers in the discipline of website conversion rate optimization.
Ash is the founder and chairperson of Conversion Conference, a frequent contributor to print and online publications including ClickZ, Website Magazine, Visibility and others, and earned a dual-major Bachelor of Science degree "with highest distinction" in computer engineering and cognitive science from U.C. San Diego while studying under a U.C. regent's rcholarship, the highest academic scholarship awarded by the U.C. system. During his PhD studies at U.C. San Diego Ash also earned his Masters degree in computer science.
Ash, who has developed successful online initiatives for top firms including Google, Facebook, Nestle, Symantec, Verizon Wireless, Canon, Sanyo, Rhapsody, American Express, Sony Music, CBS Interactive, Real Networks, American Honda, COMP USA, Symantec, Harcourt Brace, Universal Studios, HomeGain, Fair Isaac, TransUnion, Rand McNally, Red Envelope, Black & Decker, Ed Hardy, Coach, and many others, will deliver his first major keynote address at Pubcon.
Ash literally wrote the book on landing page optimization, as author of Amazon.com e-commerce bestseller "Landing Page Optimization: The Definitive Guide To Testing and Tuning for Conversions," which is in its second edition and has been translated into six languages.
"I am proud to present a keynote address at Pubcon New Orleans 2014," Ash said. "Pubcon audiences are there to learn, and Pubcon has always had a roll-up-your-sleeves audience of professionals who are on the front lines of online marketing" Ash added.
Ash's Pubcon New Orleans 2014 keynote is highly-anticipated, and will round out a fantastic lineup of keynote speakers including Cialdini and Shankman.
Registration is available now at some of the fairest prices in the industry to join thousands of attendees on March 17 – 20 and see Ash, Cialdini, and Shankman along with hundreds of other top social media, digital marketing, and optimization speakers.
These three dynamic keynote speakers will help make Pubcon New Orleans 2014 the conference of the year in The Big Easy, and with your competitors likely to be among the many thousands in attendance, you can hardly afford to miss the largest and best new media conference of 2014, including an updated multiple-track Pubcon Masters Group all-day training program.
Learn more and register at http://www.pubcon.com.
About Pubcon
Pubcon is a multi-track educational conference hosted by Pubcon Inc. Pubcon, supported by the industry's leading businesses, speakers, exhibitors, and sponsors involved in social media, Internet marketing, search engines, and online advertising, offers an in-depth look at the future of technology presented by the world's top speakers in provocative cutting-edge sessions.
For more information about the conference, contact Brett Tabke at 512-231-8107 or brett(at)pubcon(dot)com.
For more details about sponsorship and exhibition opportunities, contact Conference Director Jeff Randall at 512-686-1295 or jeff(at)pubcon(dot)com.