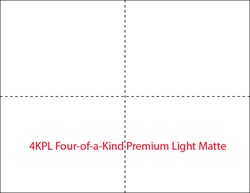 "I would recommend and have recommended you to others. Your price is very good, and the postcards are super easy to tear apart." - Angie M. - American Lung Association of MD
Roanoke, VA (PRWEB) December 11, 2013
Burris Computer Forms announces 100 and 200 packs of blank, printable postcards. The postcards – Burris' Four-of-a-Kind Postcards™ - come four per 8 ½ x 11" sheet, providing a fast, efficient, economical way to print postcards on laser or inkjet printers. For over 10 years, Burris Computer Forms has provided these to business, government and non-profit organizations. Now Burris is catering to the individual consumer and small businesses by offering one of their most popular products in packs of 100 postcards.
The Four-of-a-Kind Premium Light Matte Postcard (4KPL) is an 8 ½ x 11" sheet of cardstock paper, micro-perfed to yield four (4) 5 ½" x 4 ¼" postcards. Designs and images stand out when printed on the bright white paper. People who use Microsoft® Word® or Microsoft® Publisher®, among other design software products, can create their designs and print them directly to their laser or inkjet printer. Whether it's sending out event invitations or marketing a new business on a shoestring budget, the uses for Burris postcards are only limited by customers' ideas and imagination.
"By adding these new smaller quantity packs, home users and small businesses will be able to see what large companies already know: Blank printable postcards are a low-cost, high-visibility way to deliver a message, and Burris Computer Forms' products are high quality, cost effective products and our customer service is top notch", said Jerry Guzi, President. "We're excited about offering our products to people who need small quantities of postcards."
As computer printers get less and less expensive, Burris expects opportunities for the home and small business users taking care of their own printing needs to continue to grow. By expanding its product offerings to such a potentially large group of people, Burris Computer Forms hopes to assist these users when they have small needs, and continue to provide for them as their needs expand and grow.
More information about this new convenient pack of postcards is available at http://pcforms.com/100pack/
About Burris Computer Forms:
Headquartered in Roanoke, Virginia, Burris Computer Forms was founded in 1992 and is privately owned. Burris Computer Forms® is a registered trademark of Jerry Guzi & Company, a Virginia Corporation.