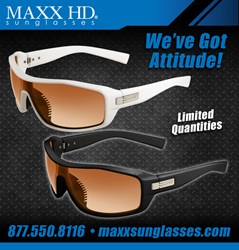 Monument, Colorado (PRWEB) December 04, 2013
Maxx HD® Sunglasses (Maxx HD®) has announced the expansion of its High Definition Full Frame sunglass line with the release of its newest style: "Attitude". This new style provides consumers the option of a more fashion forward style without giving up the clarity of high-definition lenses and the comfort Maxx HD® sunglasses have become renowned for over the past nine years.
Effective immediately, Maxx HD® Attitude is available through the company website at http://www.maxxsunglasses.com for $19.95. Attitude has limited quantities available for the remainder of 2013, but will be part of the permanent product line, with increased availability, starting in 2014.