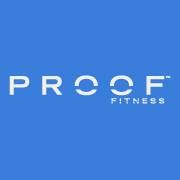 We offer innovative technology, a cool facility that you want to workout in with a wide variety of classes taught by the best instructors and personal trainers in the Lexington area.
Lexington, Kentucky (PRWEB) December 05, 2013
Proof Fitness has opened the doors of a new health club that embraces revolutionary workout monitoring technology and a commitment to personalized health and fitness as core to its trend forward gym fitness experience.
The first location of this innovative new fitness club, has opened in Lexington, located in the Tates Creek Shopping Centre at the corner of Tates Creek Road and Man O War Boulevard. Housed in a stunning 20,000-square foot facility with over 100 cardio stations, a cool, hip boutique atmosphere and four distinct group fitness studios, an outdoor training area, TRX training facilities, and a kid's playroom.
One of the key ways that Proof Fitness stands apart from other fitness clubs is their revolutionary use of fitness technology for performance monitoring, maximizing workout impact and motivation. Members can track and compare their workout performance. "From the moment you walk into our club until the time you leave, we track the important workout data that member's need to assess and achieve their goals," said Jack Letz, Proof Fitness Co-Founder.
Proof Fitness is also host to many exclusive classes, including Barre, Rowing, Cycling, Yoga, Zumba and one of the first Kettlebell AMPD classes in Lexington. "We offer innovative technology, a wide variety of classes taught by the best instructors and personal trainers in the Lexington area." said Brian Johnson, another Proof Fitness Co-Founder. "You can't help but want to come here to get fit and stay healthy."
The experience and knowledge of the training team is another differentiator. "Anyone can build a new facility and fill it with new equipment. That's not who Proof is," says Letz. " We have and continue to look for the best people to teach classes and train our members. We want to maximize every opportunity to impact our members' experience and their results."
The new facility has been created largely with reclaimed local Kentucky materials, representing the brand's good health, fitness individuality and commitment to protect the environment. "We were fortunate to be able to bring in a lot of reclaimed wood and brick from the region into the space," explains co-founder Johnson. "That was intentional. We transformed something old into something that looks new again. That's how everyone who works out here should come to feel."
The Proof Fitness facility opened for workouts and classes in November, and in December will be hosting a series of events to introduce members of the community, industry and business leaders to all this new club has to offer.
"We came up with this concept to truly revolutionize the fitness industry. To help our members take ownership of everything they do inside the club," said Letz. "We set out to design a new kind of fitness center, and we're thrilled to be able to share the result."
On Tuesday, December 10th at 11:30 a.m., Proof Fitness will be hosting their Ribbon Cutting ceremony to commemorate their official opening and to welcome fellow businesses in Lexington to come and discover opportunities to partner in developing health and fitness programs for their employees and families.
The club will host a community-wide Grand Opening celebration on Saturday, December 14, 2013, with special tours, class demos and special one day only bonus benefits for attendees who choose to join that day.
"We believe in being good neighbors, and there is no better way to show it than by inviting the community in to experience our club, and to be empowered to achieve personal fitness and the improved health benefits that come with getting and staying in shape," added Letz. "Working together we can help improve the overall health of people living in the Lexington, Kentucky area."
About Proof Fitness:
Proof Fitness is committed to providing our members with the best possible fitness experience at an affordable price. The people behind the Proof Fitness brand bring years of experience in the fitness industry and understand the importance of value for every member. With amenities such as childcare, top-of-the-line equipment, and personal training, Proof Fitness combines the best equipment, distinctive décor, wide variety of classes, and a trained and supportive staff to create an inspiring, motivational environment that is meant to help every member reach their fullest potential.
Proof Fitness has an active online social community, providing real-time motivation, class updates and an opportunity for members to help coach each other to fitness success. On Facebook, Proof Fitness can be found at http://www.facebook.comProofFit and On Twitter @ProofFitness (or twitter.com/prooffitness).