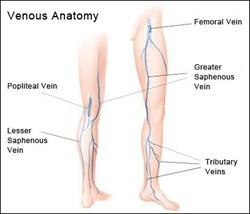 Left untreated, varicose veins and spider veins can have a range of consequences, from mild symptoms to serious medical issues.
Winston-Salem, NC (PRWEB) December 04, 2013
Winston-Salem, NC. Novant Health Vein Specialists is publishing a new article on the importance of prompt vein disease treatment. According to the Winston-Salem based center, many people with varicose veins notice a feeling of heaviness in the legs and an aching or itching sensation. Of greater concern, however, is the possible development of deep vein thrombosis, or blood clots.
"With varicose veins, blood clots can develop unnoticed in the deep veins of the legs. If those blood clots break free and travel to the heart, brain or lungs, they can become a deadly embolism," says Dr. Ray Workman, Winston-Salem vein specialist at Novant Health Vein Specialists. He notes that over 300,000 people in the US die every year from embolisms, which is why he is promoting prompt screening and vein disease treatment in Winston-Salem.
Novant Health Vein Specialists is publishing this information to alert the public to the dangers of delaying vein disease treatment, and to encourage patients to call a vein specialist if they notice the development of varicose veins or spider veins. Interested readers can find more information about vein disease treatment in Winston-Salem as well as other vein health topics on the center's website: http://salemveins.com.
For more information, visit: http://salemveins.com
Varicose Vein Treatment Options
Varicose veins result from malfunction of their one-way valves which normally promote the return of blood from the extremities back to the heart. Blood backs up in the veins increasing the pressure against the vein walls resulting in bulging veins. More than just a cosmetic nuisance, however, varicose veins can lead to leg pain, swelling and discoloration.
Many people are unaware of the affordable, effective treatments available to eliminate varicose veins. Modern advances in technology have expanded treatment options to include techniques such as sclerotherapy, radiofrequency ablation and endovenous laser therapy. All of these procedures are well tolerated. They are performed by a highly skilled vein doctor on an outpatient basis with most patients able to return to work the next day.
About Novant Health Vein Specialists
Novant Health Vein Specialists is Winston-Salem, North Carolina's foremost provider of customized, state-of-the-art care for vein disorders. Their expertly trained and caring team of health professionals is dedicated to providing patients with the highest quality of vein care. The center offers advanced and minimally invasive therapies to treat a wide range of vein conditions. Dr. Ray Workman leads the medical staff. He and his 5 partners, Dr. R. Bradley Thomason, Dr. Steve Motew, Dr. Phillip Moore, Dr. Joel Deonanan, and Dr. Shawn Fleming are all board certified in vascular surgery by the American Board of Surgery. They are board certified vascular surgeons offering full service vein treatments in Winston-Salem, including sclerotherapy, ambulatory phlebectomy, endovenous ablation, venous stenting, complex venous ulcer management, and pelvic congestion syndrome.
Novant Health Vein Specialists
http://salemveins.com
Tel. 336-791-4010