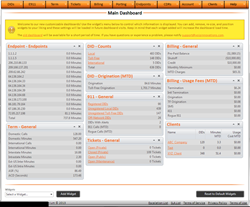 We've given our customers the targeted information and real-estate they need to literally build the perfect dashboard.
Pittsburgh, Pa (PRWEB) December 04, 2013
The new Customizable Widget Dashboards introduced by VoIP Innovations today will bring a whole new level of management to their Wholesale VoIP BackOffice platform, Titanium III. Customers have the ability to build their own unique dashboard or revert to a default preset.
The developers at VoIP Innovations know how valuable customized management can be for resellers. The current dashboards are set up based on the key performance indicators (KPIs) that are the most common among customers at VoIP Innovations. Giving customers the ability to customize dashboards for each unique BackOffice user cuts out extra information and allows each user to focus on what matters most for their job. This flexibility will give them an unprecedented advantage over their competitors in the industry.
"The new Customizable Widget Dashboards that our development team built are one of our best features yet," said Jason Tapolci, President of VoIP Innovations. "We've given our customers the targeted information and real-estate they need to literally build the perfect dashboard."
When customers login to their account they'll notice that things look slightly different. This is the default dashboard that was set for all accounts. From this point, customers can add, remove or adjust any widget they want. Examples of the widgets that might be included in the Main Dashboard are Endpoints, DID Counts, General Billing, General Tickets and Clients. Once the customer creates their dashboard, their changes will be saved and will remain the same when then login the next time.
The VoIP Innovations Customizable Widget Dashboards will be the new display for all areas of their BackOffice including the Main Page, DIDs, E911, Termination, Tickets, Billing, Porting and Endpoints. Customers can have as many widgets as they want in their new dashboards so they can have the prefect look into the KPIs. In creating these new dashboards, VoIP Innovations has yet again made a move that will transform the VoIP industry.
VoIP Innovations is an Inc. 5000 company that specializes in providing the largest DID and termination VoIP footprints in North America. Their network includes over 500,000 DIDs in stock in over 8,500 rate centers in the US and Canada. Recently, VoIP Innovations expanded their footprint to include DIDs in over 60 countries and now offers A-Z termination. VoIP Innovations is owned by ABG Capital and is based in Pittsburgh, PA. To learn more, please visit the VoIP Innovations Blog.