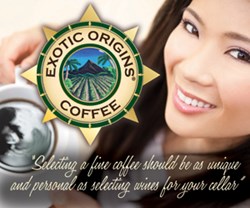 Exotic Origins Coffee is a deeper experience for the adventurous palate.
San Francisco, California (PRWEB) December 10, 2013
The two historic beverage categories come together through similar 100 point rating systems. "Wine.com Founder, Michael Osborn was one of the first e-commerce adapters in the wine industry. It is therefore no surprise he continues to innovate transformational ideas," states Scott Plail, Founder of Exotic Origins Coffee.
Like fine wine, exceptional coffee comes from exclusive estate producers around the world's coffee growing regions. Certified expert coffee tasters referred to as "Q" cuppers are responsible for ratings based on a high caliber tasting "wheel" resembling that of the wine industry.
Exotic Origins is proud to showcase the coffee grower's story on each numbered signature box. Wine.com also features the story of origin, its particular cupping notes and critical acclaim on their site. This allows customers to explore a deeper experience between wine and coffee.
"Introducing precision roasted single estate coffees on the Wine.com site is added value and service for their customers. explains Priscilla Broward, VP Sales & Marketing (Exotic Origins Coffee) Both companies strive to offer enthusiasts and connoisseurs alike effortless shopping, convenient delivery and reliable information to help customers enjoy the experience."