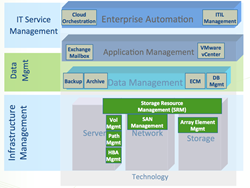 Boulder, CO (PRWEB) December 04, 2013
At an enterprise level, selecting the right storage management software is not only critical but it can be an essential component to effectively managing resources and expenses. However, understanding the differences between software products can be very time consuming. Evaluator Group Storage Resource Management (SRM) Comparison Matrix is a spreadsheet style document that is designed to enable quick and easy evaluation of various SRM offerings. The matrix is intended to be used for environments in which the economics of effectively managing the environment is vital.
The SRM Matrix compares detailed product information from major vendors including: APTARE, EMC, CA, HP, Hitachi Data Systems, IBM, NetApp, Symantec, and SolarWinds. Cost for the full matrix is $2999.00.
In addition to the matrices, Evaluator Group offers evaluation Workbooks. This document is a checklist that includes everything that an IT professional needs to consider when evaluating an SRM product, and guides the reader through the decision step by step. When used in conjunction with the matrices, the workbook make the decision process more efficient and reduces the risk of purchasing products that are not right for the environment.
Evaluator Group has been publishing comparison matrices and workbooks for over ten years as part of their Evaluator Series Research knowledgebase. Premium Subscribers have full access to the matrices and workbooks, but they may also be purchased as part of a package or individually.
Additional matrices from Evaluator Group are available including: SAN Midrange, SAN High-End, Solid State Storage, SAN Entry Level, NAS, Object Storage, Virtualization Solutions, Archive Systems, Disk to Disk VTL Deduplication and Archive products.
About Evaluator Group
Evaluator Group is an IT analyst firm dedicated to delivering unbiased in-depth information on storage architectures, products, and management strategies.