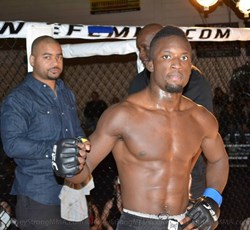 I've been training like a professional since I joined Team Lloyd Irvin. - Yusuff
Parsippany, NJ (PRWEB) December 04, 2013
Lloyd Irvin and his team in Camp Springs, MD have racked off a string of wins in MMA. Though Lloyd Irvin is known best for his Brazilian Jiu Jitsu training, many of his students excel in MMA also.
Sodiq Yusuff, 20, has been training with Team Lloyd Irvin for almost three years now. He is a blue belt under Master Lloyd Irvin and works at the Lloyd Irvin Academy in Camp Springs, MD. Sodiq wrestled and played football in high school. While in college he was looking for something physically challenging and started training MMA. Sodiq quickly gained the attention of Lloyd Irvin, with his hard work and diligence in training.
Yusuff made his amateur MMA debut on November 30, 2013 at the EFC event in Parsipanny, NJ. Sodiq said of the experience, "Before the fight was pretty much the same as how I usually feel before a grappling tournament, except I was a little more excited. When I was in there I had a little second of shock but after the first punch it just felt like practice."
Sodiq took his opponent down in the first round and landed hard punches and knees to the body. He kept control the entire round. In the second round, Yusuff threw some punches before dragging his opponent to the mat for a second time. This time, Sodiq locked up the famous Lloyd Irvin kimura from side control, when his opponent defended Sodiq transitioned flawlessly to an arm bar for the submission finish.
"I face guys like Mike Easton [of the UFC] so I knew I was prepared. My goal is to compete at the highest level and become a champion one day. I've been training like a professional since I joined Team Lloyd Irvin and I expect a career that will display the amount of time I've put in on the mat, instead of doing what the average kids my age are doing," stated Yusuff after the fight.
Sodiq Yusuff will be competing in many grappling tournaments in 2014. Although he's not sure when his next MMA fight will be, he's looking forward to improving his overall martial arts skills and fighting again when the opportunity arises.
For more information on Lloyd Irvin, Team Lloyd Irvin, or Sodiq Yusuff, please call 301-449-KICK, lines are open 24/7. Or visit http://www.lloydirvinlive.com .