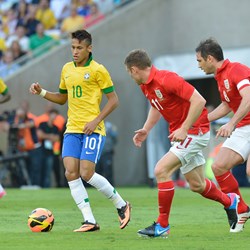 The draw for the 2014 Brazil World Cup Soccer Championships is happening this Friday, Dec. 6.
Rio de Janeiro (PRWEB) December 04, 2013
The draw for the 2014 Brazil World Cup Soccer Championships is happening this Friday, December 6. Excitement has been high, and with the teams, cities, and match ups about to be known, fans around the globe are keen to find out where their team will be and who they will be playing. In anticipation of increased demand and a high volume of inquiries, VIP Tour Group will be open with special operating hours of 9 am - 6 pm EST on Saturday, December 7th and Sunday, December 8th.
Clients can call Dustin Kaylor at our World Cup desk either prior to the draw to ensure your desired experience, or if you prefer, call after the draw to see what your World Cup Brazil Experience could look like.
This will be the second time that Brazil has hosted the FIFA World Cup competition. Thirty-two countries will take part in the finals tournament, where they will play in 12 cities across Brazil. The finals will be played at Maracana Stadium on July 13th of 2014.
It's no secret that Brazil is a soccer nation through and through, but there is definitely more to do in this fabulous country than watch The Beautiful Game. Trips down the Amazon, hiking through rain forests and gorgeous beach side resorts await you in this magnificent South American country. Let VIP Tour Group show you why the Brazil World Cup is an event worth visiting and why Brazil is a hot spot for millions of tourists every year, all wanting a glimpse of the natural beauty that its countryside has to offer.
About VIP Tour Group
VIP Tour Group is a USA-based luxury tour operator specializing in life experiences in South America. We storyboard and customize each trip to your unique needs. Our experienced team of trip designers has personal knowledge of all the areas featured. From our extensive ground research we have become experts in fine-tuning plans so that wherever you go suits you perfectly. We believe that we can offer the best advice and service because we specialize only in South America and our team is equipped with the language, cultural, and local knowledge of each destination. Contact our Trip Designers to customize your journey at (800) 772-9188.