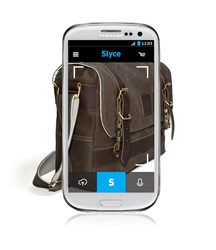 The move gives Slyce significant traction in the rapidly escalating visual search industry
TORONTO, ON (PRWEB) December 04, 2013
The Hovr.it technology - heavily rooted in its proprietary image recognition process - allows users to hover over any image on the web (think primarily, Pinterest, Facebook, etc.) and receive exact or similar product matches to those in the image, complete with direct, purchasable links.
The deal will see the entire Hovr.it team join Slyce, combining the technologies and enabling the extension of it's advanced visual search capabilities across both mobile and desktop. The move gives them significant traction in the rapidly escalating visual search industry.
Picture This
Visual search is fast becoming a highly compelling proposition for leading retailers looking to satisfy consumer demand at their point of interest, both on favoured social media sites, and in the real world.
Slyce CEO Cameron Chell said "By adding the Hovr.it team and technology to the existing Slyce platform, we create a complete proposition for consumers who want to find inspiring things wherever they are and the brands, retailers and publishers who want be there at that moment of inspiration."
Hovr.it was a recent graduate of the INcubes Accelerator. INcubes CEO Ben Zlotnick said "We're exceptionally proud of the entire Hovr.it team and believe they have just become a part of what will be a highly notable and global company."
Financing Raise
Last month Slyce announced a convertible debenture funding raise and appointment of retail tech heavyweight Mark Elfenbein, formally of Mood Media. The startup is already working with several leading North American retailers which have visual search applications due for release in 2014.
Photos are available on request.
--ENDS --
About Slyce
Slyce harnesses the full potential of visual product search through its advanced identification platform. Using state-of-the-art image recognition technology, Slyce integrates with the world's leading retail brands to provide shoppers with the ability to discover and purchase all of the things that inspire them, simply by snapping a photo with their smartphone or hovering over any image they see online.
About [IN]cubes ([IN cubes is a Toronto based accelerator that sources emerging entrepreneurs and talented startup teams, and graduates qualified businesses with innovative products and ideas towards their first round of capital. [IN]cubes connects with the most forward-thinking and grass-roots Canadian talent with the goals of transforming their new and disruptive technologies into international sensations.
For further information and interviews please contact:
Josh Stanbury | Slyce | josh[at]slyce.it | 403-781-6671