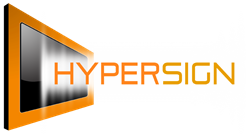 "We're ecstatic about illustrating the importance of IT in modern business." Jason Mordhart, Hypersign.
Spartanburg, Greenville (PRWEB) December 10, 2013
Hypersign will be joining Southside High School in their celebration of Computer Science Education Week. Hypersign will have a booth in order to share with interested students and parents just how we use IT in our business.
The Computer Science Celebration will be located at Southside High School on Thursday, December 12th. It will begin at 5:30 and run until 7:30.
Jason Mordhart, of Hypersign, says "We're esctatic about illustrating the importance of IT in modern business to local students and parents."
Southside High School is located at 6630 Frontage on White Horse Rd, Greenville.
Hypersign Software is an award winning software product development company focusing on building products that improves the lives of people. The Hypersign product is known for its incredibly intuitive interface making it the perfect digital signage solution for education (K12 and higher Ed) and healthcare. One of Hypersign's premier developments is the KidGopher product. KidGopher is known for its ability to greatly improve security and efficiency making it the best child pickup system for K12 Education. KidGopher, and other Hypersign software products are available to purchase from AV Integrators throughout the US and Canada.