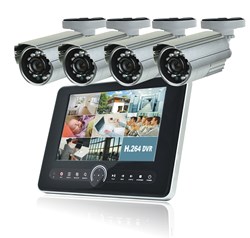 'Technology is advancing our industry and this is good news for homeowners and small business owners. It's helping to make video camera security more affordable for everyone.' - Bob Scales, Owner, Safeguard Alarms
(PRWEB) December 04, 2013
Nearly 400,000 burglaries take place in the United States between November and December each year. According to the Federal Bureau of Investigation, home burglaries accounted for 73.9 percent of all burglary offenses. New technology may help homeowners in the fight against crime. Technological advances are making home security camera systems smaller, better, and more affordable for the average homeowner or small business owner. The Freedom 1500 security camera system, for example, uses new tablet-DVR technology not much larger than an iPad that acts as a video recorder and monitor in one. With Internet access and apps available, it can be connected to smart phones or tablets so users can see what's going on at home from almost anywhere. This system now sells for about half the price of comparable systems using traditional DVRs to record video, thus making it affordable for the average homeowner or small business owner. When thieves see cameras, they think twice.
In addition to installing a video surveillance system, Safeguard Alarms offers these tips to homeowners to avoid break-ins:

Make sure you lock all doors and windows including those in your garage. Install deadbolts on doors with just button locks and use rods in sliding doors.
Make your home look occupied. Ask a neighbor to pick up mail and newspapers. Pay them to shovel your walk if it snows. Put some lights on timers.
Don't display gifts around a tree near a window.
Break down large boxes from electronics before putting them out with the trash.
Don't hide keys under the mat.
If you have an alarm system, advertise it boldly and always activate it when you leave.
Safeguard Alarms Security Company has been providing security for Kansas City home and business owners since 1965. For more home security tips or to learn more about the Freedom 1500 Security Camera System, visit the website at Safeguardkc.com or call Bob Scales at (816) 356-9900.
Safeguard Alarms web design and marketing provided by MarketingXchange.