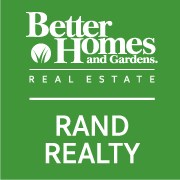 "We are excited to offer a higher level of training and support to our agents and we look forward to taking advantage of the new marketing tools available through Trulia." - Matt Rand, Managing Partner, Better Homes and Gardens Rand Realty
New City, NY (PRWEB) December 05, 2013
Better Homes and Gardens Rand Realty, announced a new agreement with Trulia, a leading online marketplace for homebuyers, sellers, renters, real estate agents and brokers. The Trulia Accelerate program helps to strengthen brokerage businesses with enhanced agent performance. The program provides the best tools and data insights to help Better Homes and Gardens Rand Realty capture more market share, recruit and retain top performers and expand its brand in new markets.
"We are excited to offer a higher level of training and support to our agents and we look forward to taking advantage of the new marketing tools available through Trulia." - Matt Rand, Managing Partner, Better Homes and Gardens Rand Realty.
With the real estate recovery now in full swing, we're on pace to see more homes sold in 2013 than we have since 2007. Real estate agents and brokers who were working in a tough buyer's market and aggressively searching for home buyer leads just a few years ago are now getting multiple offers on homes and looking to find home sellers. In this competitive environment, it's crucial for brokers and agents to stand out. Trulia provides the ideal marketplace with 35 million home buyers and sellers, visiting the company's website and mobile apps every month.
Better Homes and Gardens Rand Realty gets more than access to one of the leading online real estate audiences; it gets increased visibility with consumers and agents with Better Homes & Gardens Rand Realty branding on each agent's profile as well as on the search results page of Trulia's agent directory. Branding is also provided for important communications, such as lead emails.
With Trulia Accelerate, Better Homes and Gardens Rand Realty can generate loyalty by providing its agents with resources to help them outperform the competition, including best-in-class tools to win more listings and close more deals. Other benefits from this partnership include customized agent training and a resource library, to help agents more effectively market themselves online, drive productivity, and capture more market share.
Premium Listings
Trulia Accelerate provides the option to post premium listings on Trulia, which are branded on both the search results page and listing detail pages to increase brand awareness for Better Homes and Gardens Rand Realty in local markets.
Premium listings receive prominent exposure in search results and earn three to five times more leads, views and clicks from visitors to Trulia.
ABOUT BETTER HOMES AND GARDENS RAND REALTY
Better Homes and Gardens Rand Realty is the premiere real estate brokerage in the Greater Hudson Valley and Northern New Jersey serving Westchester, Rockland, Orange, Putnam, Dutchess, Bergen and Passaic counties. Founded in 1984, Better Homes and Gardens Rand Realty has more than 800 residential real estate sales associates, a commercial real estate company (Rand Commercial Services), and affiliated services companies (Hudson United) offering residential mortgage lending, title services, and commercial/residential insurance. For more information, visit us at: http://www.randrealty.com, http://www.randcommercial.com and http://www.hudsonunited.com. Or follow us on Facebook (Better Homes and Gardens Rand Realty), Twitter (@BHGRand), and Pinterest (Better Homes and Gardens Rand Realty).
ABOUT TRULIA, INC.
Trulia gives home buyers, sellers, owners, and renters the inside scoop on properties, places, and real estate professionals. Trulia has unique info on the areas people want to live that can't be found anywhere else: users can learn about agents, neighborhoods, schools, crime, commute times, and even ask the local community questions. Real estate professionals use Trulia to connect with millions of transaction-ready buyers and sellers each month via our hyperlocal advertising services, social recommendations, and top-rated mobile real estate apps. Trulia's Market Leader subsidiary, delivers the leading end-to-end technology and marketing solutions that enable real estate professionals to grow and manage their businesses. Trulia is headquartered in downtown San Francisco. Trulia is a registered trademark of Trulia, Inc.
For more information contact:
Partner contact information
Matthew Flegal | pr (at) trulia (dot) com | 415-400-7307