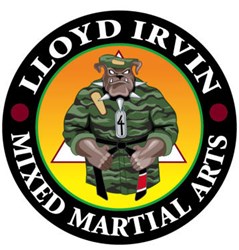 I can't wait to fight again.
Parsippany, NJ (PRWEB) December 04, 2013
Team Lloyd Irvin had two victories November 30th at the EFC event in Parsippany, NJ. Arthur Ceesay, a Lloyd Irvin Blue Belt, won his first ever MMA fight via unanimous decision in 3-three minute rounds.
Arthur has been training at Team Lloyd Irvin for almost 6 years and until recently participated in wrestling and jiu jitsu. After taking some boxing classes at the Lloyd Irvin academy, Arthur decided to try MMA. He got the approval from Master Lloyd Irvin and started to train for the fight.
On November 30, 2013, Arthur made his debut at the EFC event, where he won via unanimous decision, 2 rounds to 1. Arthur dominated the majority of the fight. In the first round, Arthur went straight for a takedown, he controlled the cage and positioning and landed shots to the body from the top position. In the second round, it was much of the same dominance from Arthur. In the third round however, Arthur had a bit of a scare, when his opponent took back control. The opponent took Arthurs back in a scramble and Arthur had to fight hard to defend multiple choke attempts. The third round ended with Arthur defending, although it was enough to lose the round, Arthur showed enough offense and dominance to win the fight.
Said Arthur, "It was amazing, I really enjoyed the fight. I can't wait to fight again for Team Lloyd Irvin."
Ceesay is a father to twin boys and DJ's when he is not training. His sons also train at Team Lloyd Irvin in the kids Summer Camp Program.
For more information on Team Lloyd Irvin, please visit http://www.lloydirvinlive.com or call 301-449-KICK, lines are open 24/7.