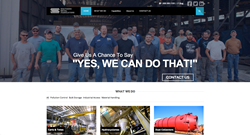 Albertville, Ala. (PRWEB) December 04, 2013
Southern Metal Fabrications, Inc. (SMF), launched a mobile-friendly portfolio website that makes it easy for visitors to evaluate SMF's fabrication and assembly capabilities. The new site, http://www.southernmetalfab.com, highlights recent projects across categories such as pollution control, material handling, bulk handling and industrial access by showcasing mini case studies and high quality photographs.
"When customers evaluate a metal fabricator, they want to see examples of projects similar to their needs," said Bud Weed, Sales Manager at SMF. "Each project on our site includes a brief description of work performed, part dimensions and materials used – the types of information people want to see when sourcing for manufacturers. We hope the site shows folks that no matter what they need, SMF can proudly say, 'Yes, we can do that.'"
In addition to showcasing recent projects, the new site provides a list of in-house manufacturing capabilities, including design, cutting, finishing and assembly capabilities. SMF is a full-service, design-to-delivery manufacturer for nearly all things metal – from decorative metal to massive structural steel projects. By housing fabrication and assembly under one room, SMF is able to maintain a high level of consistent quality control.
"Customers really appreciate the extra quality control of our pre-assembly service," said Weed. "We pre-assemble everything in-house before shipping to make sure it fits before it goes on-site. Because we're a single-source fabricator, we can ensure each individual component in a larger assembly is fully compatible. With SMF as your fabricator, assembly is one less thing to worry about."
Visit http://www.southernmetalfab.com or contact Bud Weed at 800.989.1330 for more information on recent projects and capabilities.
About Southern Metal Fabricators
Established in 1991 as a two-man shop serving maintenance and light fabrication needs of local industry, Southern Metal Fabricators has become an aggressively growing custom metal fabricator. Vision driven, Southern Metal Fabricators continually seeks qualified employees, invests in increased capabilities, and actively pursues broader markets. Our goal is to meet or exceed your requirements with respect to quality, budget, and delivery.