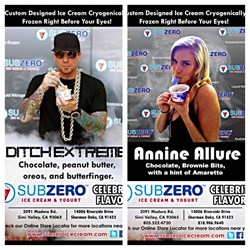 This is a wonderful cause and we hope to bring a massive amount of toys for the kids this holiday season. - Ditch
Anaheim, CA (PRWEB) December 04, 2013
Artists, Ditch, Rappin 4Tay, Strap from Mansion Of Mayhem and more will perform at House Of Blues Anaheim for the annual Acropolis RPM Charity Toy Drive. The event will take place December 10th 2013 at 7:30 p.m.
In addition to music by rap legend Rappin 4Tay, the show will feature giveaways from Trend Settah Inc makers of Splitarillos, Hood Wraps, Crystal Clear Eyedrops, Swag Phones, and Hookah products. Blow Hookah and Sub Zero Ice Cream & Yogurt (as seen on ABC's Shark Tank) will be represented with special on stage appearances at the concert. The Sub Zero flavor chemists will blast the audience with refreshing clouds of liquid nitrogen as the artists perform live.
Toy donations from the concert will also be accepted as part of the Spark of Love toy drive for children in need this holiday season. Children in the Los Angeles area, who would otherwise go without a toy this Christmas, will receive new toys and sporting goods through community organizations based on the generous donations of concert patrons. Guests are encouraged to bring a new toy to donate to the cause as they enter the building. The toys will be given away in December at the Honda Center in Anaheim at Spark Of Love held by ABC and weatherman, Garth Kemp.
"I am very happy to help Spark of Love bring presents to children and families who may not have a lot this holiday season," said Rapper, Ditch. "This is a wonderful cause and we hope to bring a massive amount of toys for the kids this holiday season."
Sub Zero Ice Cream will also debut the new Ditch and Annine Unger flavors: "Ditch Extreme" and "Annine Alure" backstage, which include combinations of chocolate, peanut butter, amaretto, brownies and butterfingers. The ice cream is custom made and "flash frozen" with a blast of liquid nitrogen for each customer. Coupons for the Simi Valley and Sherman Oaks locations will be given to each member of the audience. Ditch will also have Cuestion Tequila backstage for the bands and plenty of other giveaways for the crowd.
House Of Blues Anaheim is located inside of Downtown Disney at 1530 Disneyland Dr, Anaheim, CA 92802. The concert is for all ages and tickets are buy one get one free for $10 each. Visit Ditch's official website at http://www.lethaltendermusic.com. Ditch is sponsored by Trend Settah Inc, and Cuestion Tequila. Ditch will also be giving away new copies of his new CD "O2BNLA" at the show. Please visit Sub Zero Ice Cream's website for more information at http://www.subzeroicecream.com, Trend Settah Inc website at http://www.trendsettahinc.com, and Cuestion Tequila website at http://www.cuestionspirits.com.