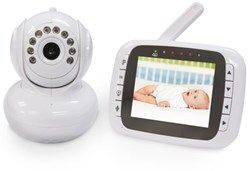 We are very pleased to be launching a safer monitoring option for parents of young infants.
Plymouth, MN (PRWEB) December 06, 2013
Cozy Infant's new cordless baby monitor is a safer and more convenient option for parents of young children. Recently, 600,000 corded baby monitors were recalled after two infants tragically died of strangulation caused by the cord attached to the monitor's sensor pad (camera unit). The new Cozy Infant remote wireless baby monitor will eliminate the risk of strangulation due to monitor cords and provides added convenience for parents.
The slim and lightweight introduction to the video baby monitor arena features remote pan and tilt capabilities and was designed for parents to be able to monitor their infants from anywhere in the house without the limitation of cords. The video monitor features a 3.5-inch ultra-bright screen and uses the latest 2.4Ghz technology. Infrared LEDs on the camera help parents monitor their children day and night without the need for an extra light that may interfere with the child's sleep. The camera and monitor run on a rechargeable Lithium-ion battery that allows for up to two hours of portable usage on the camera, and over eight hours on the monitor. Arguably the most important benefit of this new introduction is the fact that it eliminates the risk of strangulation due to camera cords.
"We are very pleased to be launching a safer monitoring option for parents of young infants because we believe that death should never come as a result of using a product that was meant to keep infants safe and out of harm's way," said Bob Gold of Cozy Infant.
About Cozy Infant:
Cozy Infant is dedicated to designing, building and importing the most advanced juvenile consumer electronics from around the world because they believe that although technology may not make you a better parent, it will certainly keep you informed, so you can make more of the right decisions for your child. Before any product is introduced, it goes through an extensive vetting process that includes focus group research and thorough market analysis. Once the functionality is in place, Cozy Infant's design team works to create an end product that is as attractive as it is functional and affordable. The folks at Cozy Infant strive to deliver the cozy, warm feeling you'll get knowing your child is safely sleeping in the next room.
Contact
Bob Gold
(855) 962-7553
Support(at)cozyinfant(dot)com