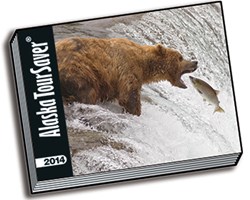 From Ketchikan to Kodiak to Kotzebue, we've included the "best of the best" in this year's TourSaver
(PRWEB) December 04, 2013
Just in time for the Alaska traveler on your gift list: the all-new 2014 edition of the Alaska TourSaver®. This is the 16th annual edition of the handy 2-for-1 travel booklet. The book sells for $99.95 and features about $20,000 in 2-for-1 travel deals—over 115 offers.
Many of the 2-for-1 travel deals throughout Alaska sell for more than the cost of the book. That means you get your initial investment back after using JUST ONE coupon. Pick from one of the high-value deals below:
1. 2-for-1 Luxury Train Tour Anchorage-Denali (value $436)
2. 2-for-1 Deep Sea Fishing for halibut and salmon in Seward (value $335)
3. 2-for-1 Anchorage Hotel accommodations (value $199)
4. 2-for-1 Flightseeing in Misty Fjords from Ketchikan (value $269)
5. 2-for-1 Hotel accommodations in Ketchikan, Juneau, Skagway, Cordova, Kotzebue…more
6. 2-for-1 Helicopter flightseeing/hike at Denali Nat'l Park (value $525)
7. 2-for-1 flightseeing in Glacier Bay National Park (value $198)
8. 2-for-1 Whale watching in Juneau (value $159)
9. 2-for-1 Bear viewing in Hoonah (value $120)
10. 2-for-1 Zipline in Ketchikan (value $189)
For a complete list of the 115+ 2-for-1 Alaska TourSaver deals, click HERE.
"From Ketchikan to Kodiak to Kotzebue, we've included the "best of the best" in this year's TourSaver," said co-publisher Scott McMurren. "We live in Alaska year-round, so the folks in the TourSaver are our friends and neighbors," he said. 
More must-see 2-for-1 offers:
In Fairbanks:
2-for-1 Riverboat Discovery 
2-for-1 Gold Dredge 8
In Juneau:
2-for-1 flightseeing over the Juneau icefield
2-for-1 Zipline
In Wrangell-St. Elias National Park
2-for-1 Kennicott Glacier Lodge
2-for-1 Glacier hike on the Root Glacier
In Anchorage:
2-for-1 Anchorage Museum
2-for-1 Alaska Native Heritage Center
In Wrangell:
2-for-1 Jetboat tour up the Stikine River
In Lake Clark National Park:
2-for-1 7d/6n wilderness adventure (includes air fare from Anchorage!)
In Katmai National Park:
2-for-1 day tour to the Valley of the 10,000 Smokes
This year's TourSaver is loaded with cruises, flightseeing, fishing trips, cultural experiences and admissions to make your Alaska adventure a memorable one. Smart travelers order the TourSaver early and lock in their trips. 
Order online for fastest service: http://www.toursaver.com Travelers in Alaska can purchase the TourSaver book at most Carrs/Safeway stores and save the shipping cost. Just go to the customer service counter and ask for the book .