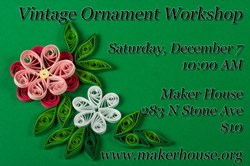 We've got a great line-up of holiday events planned all month long, beginning this weekend with an all ages ornament workshop and a 21 and over tree trimming party.
Tucson, AZ (PRWEB) December 05, 2013
December 7th officially begins the holiday season at Tucson's own Maker House, located in the historic Bates Mansion in downtown Tucson.
Kicking off the festivities is the Vintage Ornament Workshop, Saturday, December 7th, beginning at 10 AM. Executive Director Vanessa Ford states that the workshop can last for as long as the student wishes it to. "If you get through all four ornaments in an hour, you can feel free to create more. We'll be running the workshop from 10 AM to 4 PM, so you can pop in, pay your materials fee, and create ornaments for as long as you like." In the workshop, participants get to make 4 different types of ornaments, including a paper design craft dating from the Renaissance, called quilling. Other ornament techniques will include ribbon and bead sculpture, repurposing old holiday cards, and Ford's personal favorite, clothespin people. There is a $10 materials fee to help Maker House cover the costs of the materials needed.
To reserve materials for the workshop, you can sign up at http://makerhouse.org/event/vintage-ornament-workshop/.
Later that evening, Maker House will play host to a holiday decorating party they're calling "Dysfunctional Family Christmas: A Vintage Tree Trimming Party". The tree trimming begins at 8 PM, and will feature Tucson's golden-voice, Philip Harvey, leading old-fashioned caroling a'la Frank Sinatra and Bing Crosby. Vintage holiday movies will be shown on Maker House's giant 20x15 foot screen throughout the evening.
Attendees can make a glass tumbler from a recycled glass bottle, and have their pictures taken in one of the vintage-inspired holiday vignettes, designed and created by producer, visual artist and image ambassador Curtis James Marshall (#moonflower), whose work has been featured in numerous national and international campaigns. Ford describes Marshall as a designer extraordinaire, saying "We are so blessed to be surrounded by incredible artists here at Maker House, and Curtis is a jewel among jewels. His work is amazing, and he has graciously offered to contribute his skills to this event. I think people are going to be blown away by the vignettes he's creating here."
Maker House will run beer and wine specials all evening, along with traditional eggnog, spiced hard cider, and peppermint hot chocolate. There is no cover charge to get in, but the event is 21+. Parking is free in the Franklin lot, right across the street from Maker House.
More information can be found at http://makerhouse.org/.