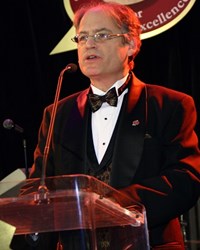 "The Consumers' Choice Award provides well deserved recognition to top tier local businesses," says organizer president, Jeff Chernoff
Columbus, Ohio (PRWEB) December 04, 2013
The Consumers' Choice Award® celebrates sixteen years in Columbus with a breakfast reception at the Columbus Hilton Hotel at Easton. First established in Canada in 1985, the Consumers' Choice Award (CCA) identifies and promotes businesses that consumers have voted their top choice for outstanding customer service.
Consumers are able to cast their vote through an independent survey commissioned to Survey Sampling International (SSI), a global leader in consumer polling. The survey covers a broad range of business categories of interest to both the public and business communities. SSI uses a database of local individual opt-in respondents that create an online panel for each metropolitan area including Columbus, OH, Atlanta, GA, Dallas/Ft. Worth, TX and Houston, TX.
The questionnaire asks respondents to base their selection of preferred businesses on aspects such as quality, value, service, appearance of the business, as well as any other elements they might consider important in making their choice. In most cases the ballot includes only local companies.
The reception on December 11th will be attended by both new award recipients and multiple year winners. Special guest of honor Gail Hogan, host of Daytime Columbus on NBC4, will be on hand to greet the guests. The morning will include a keynote presentation by Myra Golden, a successful author and expert on delivering top tier customer service.
From lawn care to health care, and from personal to business services, the Consumers' Choice Award® strives to provide consumers with options on how to get great value without compromising on service. Unlike most other business awards and consumer based reviews, the Consumers' Choice Award® provides participating companies a platform to promote their recognition to a wider audience. In addition, on going seminars as well as on-line initiatives help to educate both the business and consumer communities