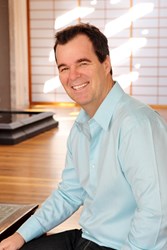 I'm not in the house business. I'm in the opportunity business. I'm not really interested in properties, I'm interested in situations. If you look at it this way, you'll get better value in the long run.
(PRWEB) December 04, 2013
Australian real estate investment authority, Rick Otton has just coached listeners of his regular Creative Real Estate podcast through a series of his more unusual property millionaire secrets. During the Q&A podcast, Otton shared his top tips on a diverse range of issues from renovations and winning over real estate agents to building a versatile kit of low-risk, high-return property investing strategies.
Mr Otton is renowned for his radical property investment techniques which are often contrary to the traditional bank-loan-focused experts in the field. His personal mission is to help Australians, regardless of economic status or real estate industry experience, achieve financial freedom through property.
During the podcast, a listener asked about the benefits of making improvements to a property prior to finding a buyer.
"I do nothing, absolutely nothing. When I started out years ago, I'd spend money and time fixing properties, but people come in and their taste is nothing like mine," Mr Otton said.
"I've just found over the years that you just burn too much money and energy. I reckon you're better off just giving people the opportunity to turn a house into their home to suit their individual taste."
Leveraging Unique Situations
Mr Otton said one of the keys to making his techniques work for property investors was to focus on the individual power of any given transaction, rather than on the profits a house could deliver.
"I'm not in the house business. I'm in the opportunity business. I'm not really interested in properties, I'm interested in situations. If you look at it this way, you'll get better value in the long run," he said.
"Sometimes I'll say to an agent that my wife and I want to buy an investment property but we've only got $450,000 to spend. 'Mr Agent, knowing that I've only got $450,000 which one of your sellers or vendors would be the most deserving of my @450,000?'
"Then they start telling you about the situations that people are in, whether someone is going to go bankrupt if they don't get a buyer for him or whatever."
The professional investment mentor encouraged aspiring investors to build a relationship of trust with real estate agents and property sellers over time so they would be more willing to embrace new transaction concepts.
Mr Otton said one of the best ways to help people to change their mindset and accept his techniques (which involved freedom from banking debt and using little, if any, of their own cash) was to ask the right questions.
"We figure out from the questions we ask and the answers we get back what the right tool to use is. During my workshops and events, it's great because I can get right into the nuts and bolts and pull things apart, especially when people want to bring a transaction to the room and ask questions like 'how do I get out of this piece of property?' or 'how do I avoid bankruptcy?'."
To hear this, and other free podcasts from Rick Otton visit CreativeRealEstate.com.au.
About Rick Otton
Australian property investment specialist, Rick Otton, has been developing, sharing and teaching his innovative real estate strategies for 23 years. As the founder and CEO of We Buy Houses, which operates in the US, UK, Australia and New Zealand he is known for introducing cutting-edge techniques that have enabled previously disenfranchised people to get out of the rental cycle and into their own homes.
His innovative low-risk, high-reward approach to Australian real estate investing has been featured in a variety of television programs and magazines, including Today Tonight, Hot Property and Australian Property Investor. His real estate book, published in 2012, ''How To Buy A House For A Dollar', voted by Money Magazine and Dymocks Book stores as one of the Top 10 Most Popular Finance Titles for 2013.
As well as conducting free seminars, workshops and conferences in the UK and Australia, Mr Otton releases a weekly podcast on iTunes, Creative Real Estate. In these he shares examples of real transactions, and you can listen to his students share their own experiences using his strategies.
Go to CreativeRealEstate.com.au to listen to Rick's free podcasts.