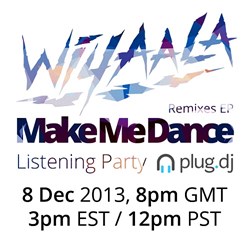 New York, NY (PRWEB) December 04, 2013
Wiyaala and Plug.dj are joining forces to create an online-only listening party that is certain to be a spectacular event to round out the year. It takes place December 8th, 2013 just one day before the official EP release. Free for everyone and broadcasting at 12pm PST / 3pm EST / 8pm GMT.
Fans can sign up to be notified about the event at next.wiyaala.com, and on December 8th everyone will be able to join the Wiyaala room at plug.dj/wiyaala. During the event, fans can chat with each other and the artists and listen to the latest picks from Wiyaala (including all tunes from the Make Me Dance Remixes EP) and special guests: video and music mash-up artist and Internet star Robin Skouteris and the up-and-coming Australian sensation Chelsea Cullen.
On December 9th, Wiyaala will unleash a feisty new follow-up to her latest single, "Make Me Dance". This new release, the Make Me Dance Remixes EP, currently available for pre-order on iTunes at http://smarturl.it/mmdremixes, features five tracks in nu-disco, disco house, breakbeat, drum & bass and trance genres. The remixes cover the whole range of EDM genres. Marej Deluxe and Juan Pacifico showcase the best of disco house, with Lada Sax joining Marej Deluxe's remix performing live saxophone. L3x and Pio Beat bring a totally different dancefloor vibe with their drum & bass and breakbeat remixes. Merse closes the EP with yet another flavour, an atmospheric trance version of the single.
Come join the party on December 8th to hear all the new tracks along with artist commentary!
About Plug.dj:
Plug.dj is a real-time social media experience combining music and video discovery in a fun and interactive online environment, complete with dancing avatars to match people's personalities. The plug.dj app makes it easier than ever to create parties with your friends and peers around the globe. Choose from a wide array of cute characters, join any number of virtual rooms where you can discover and share music and videos, and communicate with international party-goers using our real-time chat translation.
About Wiyaala:
Wiyaala, "The Young Lioness of Africa," is an Afro-Pop singer/songwriter, artist, actress, and an ambassador of African culture from Funsi, Upper West Ghana. Noella Wiyaala infuses the giant pop sounds of David Foster with the modern funk and flair of Janelle Monae. Won two Golden Moments awards at the 2011 edition of "Stars of the Future," and later became a winner of Vodafone Icons Mixed Edition. Wiyaala is also known for standing up for women's rights, having a very distinctive androgynous image herself. The "Make Me Dance" single was released through Djimba World Records on October 7th.
About Robin Skouteris:
Robin Skouteris is a music producer, DJ and video director from Athens, Greece. Mostly known for his world-famous mashups, Robin also remixes and composes for music artists, tv commercials and short films. A solo self-produced album with collaborations is in the works.
About Chelsea Cullen:
Chelsea Cullen is a soul-pop singer/songwriter from Perth, Australia. Having grown up in one of the most beautiful cities in the world, it is no surprise that her voice radiates through the soul and has us clinging onto her every lyric. Having already been nominated for 2 songs in 2011 for Western Australian Music Song of the Year, there is nothing standing in the way of this up-and-coming sensation.
http://wiyaala.com
http://www.facebook.com/wiyaala
http://www.youtube.com/noellawiyaala
http://twitter.com/wiyaala
For further information contact Dotted Music Marketing & PR: Justin Ellenson – j.ellenson(at)dottedmusic(dot)com.