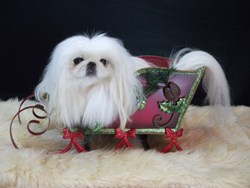 Miss Pearl's book & CD stocking stuffer in time for the holidays.
Akron, OH (PRWEB) December 04, 2013
Champion Pekingese, Diva Pearl makes the holidays merry with the debut of a CD and book holiday stocking stuffer that's the perfect item for any dog lover or fan of Pekingese. Miss Pearl (http://www.misspearl.com) was born just two days before Christmas so it's only fitting that she'd bring her breed of holiday cheer to children and families around the world.
Included in the holiday gift bundle are the CD titled "Miss Pearl's Songs" released this year as well as her book "Diva Pearl the Pekingese: Life After Show Biz," which was released in 2012.
"Miss Pearl's Songs" is a two track CD featuring an instrumental lullaby and Miss Pearl's theme song, "Her Name is Miss Pearl." Both tunes were written and performed by Kevin Hupp at his studio The Groove Room in New York http://www.kevinhupp.com
A bonus video is also on the adorable one-of-a-kind CD.
"As far as we know these are the first songs written especially for a dog," said Vicki Gattuso who is Miss Pearl's owner and caregiver and "helpful elf" during the holidays. "Hands are better at shipping packages than paws," joked Ms. Gattuso.
The two items together are sold for $14.95 plus $4.95 for shipping in the Continental USA. For ordering and information, please visit http://www.misspearl.com or call 1-800-232-5759.
Miss Pearl (http://www.misspearl.com) is a former show dog and cover girl who recently appeared on the cover of Orient Express Magazine. She is a Sleeve Pekingese, an ancient toy breed that originated in China over 2,000 years ago. Sleeve Pekingese are rare, and were favored by the earliest Chinese Imperial court, when emperors would carry the breed in their sleeves. Pekingese are frequently in the company of VIPs. Jackie O, Liz and Marilyn all owned them.
In addition to Miss Pearl's studio pictures, the website features links to poems about Pekingese, custom handmade capes for dogs and pastel drawings of Miss Pearl. A brief history of Miss Pearl's pedigree traces her roots to Singlewell Tonic, a white Pekingese, who was bred by a famous English aristocratic family that lived in an English castle.
Miss Pearl's book, "Diva Pearl the Pekingese: Life After Show Biz" appeals to dog lovers and people of all ages who want to be inspired by great photographs and a stirring comeback story. It chronicles Pearl's life including her lineage, her career, her favorite activities, and the humans in her world. The "scrapbook" style pages make for a breezy, entertaining read.
A percentage of the proceeds from the sale of Miss Pearl's products go toward Ohio-based humane organizations. Credit card ordering for Diva Pearl's gift package is available through 1-800-232-5759, Amazon.com and PayPal. Checks and money orders may be sent to Diva Pearl, 3575 Maybank Hwy #D129, Johns Island, SC 29455. For international shipping please email first.
About Vicki Gattuso
Diva Pearl (Miss Pearl) inspires her owner, Vicki Gattuso. According to Ms. Gattuso the two live in a parallel universe. Vicki is an Ohio native who spends her winter months in Charleston, SC with her husband Jim, and canine pals: two white Pekingese (Pearl and Shoko) plus Oshi, a Japanese Chin. Vicki is part owner of a furniture manufacturing business, Amish Country Furniture at StandUpDesks.com. Pekingese with their ancient history, art and lore are Vicki's passion.