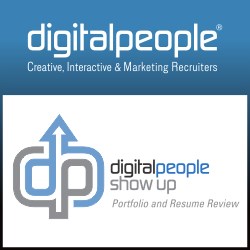 Minneapolis, MN (PRWEB) December 04, 2013
Digital People, a staffing and recruiting firm within the Atterro Human Capital Group focused on placing creative, interactive and marketing professionals, is holding another of its successful series of DP Show-Up events on Wednesday, December 18, from 5:30pm to 8pm, at Fulton Brewery, located at 414 6th Avenue N., in Minneapolis.
The DP Show Up Portfolio and Resumé Review is a free event offered to area job seekers and freelancers who are invited to bring their portfolios for evaluation by some of the top pros in the Twin Cities creative, marketing and interactive arena. In addition, Digital People recruiters will provide resumé and interview tips.
Creatives with a portfolio – online or offline – will get facetime with people who know the industry and know what will impress hiring managers. These professionals compose the review panel on Dec. 18:
Matt de Pratter, Vice President, Digital Shopper Marketing - Catapult
Sonjia Erickson, Lead Designer - Target
Valerie Gerber, Account Director - Tad Ware
Jobin Hume, Creative Services Director - Three Deep Marketing
Erin Schwind, Photography Producer - Code Creative Services
Joe Williams, UX Director - Health Partners
Attendees may check in and mingle with industry professionals and reviewers, beginning at 5:30pm. From 6pm to 8pm, they will be scheduled for a fast-paced showing of their portfolios and resumés to various reviewers, to gain valuable self-promotional insight from several points of view. Lulu's Street Food will also be on site, serving up tasty dishes.
Atterro Human Capital Group offers interim staffing, search and SmartSourcing services to local, regional and national customers. Atterro's experienced industry professionals utilize the latest research, recruiting technology and assessment tools to serve clients through its six specialty brands—Blue Edge RPO for Recruitment Process Outsourcing, Digital People for Creative, Interactive and Marketing, Hunter Hamilton for Finance and Accounting, Pro Staff for Administrative and Light Industrial, Technical ProSource for Information Technology, and Ware Technology Services for Engineering. Visit http://www.atterro.com.
Contact:
Steve Brentlinger
Marketing Director
email: Steve.Brentlinger(at)atterro(dot)com
ph. 612‐373‐2600