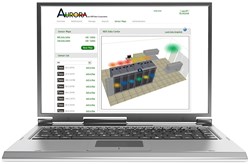 There is no comparison to the visual aspect of these high resolution temperature sensing strips.
Glassboro, NJ (PRWEB) December 05, 2013
One year ago, NER Data Corporation (NER) launched the patent-pending Aurora High Resolution Temperature Sensing Strip which changed the way critical environments monitor and visually represent temperature at the cabinet level. Today, NER announced significant enhancements that bring higher levels of visualization and management to the Aurora Management System. All of the new features are included in the existing hosted (cloud-based) version and in a new Enterprise (local) version. The Enterprise edition enables organizations to deploy and run the Management System locally on their own servers.
A new Sensor Grouping feature provides the ability to group and order sensors in any configuration. With Sensor Grouping, onscreen sensors can easily be arranged to exactly match physical strip deployments. Another notable enhancement is Diverse Thermographic Sensor Mapping. Unlike single point sensors, Aurora Strips have 8 temperature sensors that take readings at 8 height stratifications. With Diverse Thermographic Sensor Mapping, users can quickly view any single stratification on a map or can click "Scan" to automatically scroll through all of the stratifications levels.
Additional new features include:

Improved Icon Scaling that provides better views of sensor icons when zooming in and out
Increased Screen Resolution that allows for more sensors, list details, and "At a Glance" views to be displayed onscreen
A Gateway Sensor List that allows users to assign specific sensors to specific gateways.
When launched Dec. 2012, the Aurora High Resolution Temperature Sensing Strip revolutionized how facilities view temperature. The strip has eight sensors spaced vertically eight inches apart that collect readings at eight different height levels. Temperatures readings are visually displayed on the strip through high resolution LEDs that range from cool (blue) to hot (red) and a blend of 129 colors in between. Data from these readings are sent to the Management System through a gateway for trending and alerting purposes.
"There is no comparison to the visual aspect of these high resolution strips," said Robert Huttemann, Vice President at NER. "The Management System enhancements bring that high visual aspect to the user interface along with the flexibility to model the user's exact environment – from row to row and from top to bottom similar to a CFD."
Huttemann further adds, "Data Centers are dynamic environments with temperature being a critical aspect, so Aurora's instantaneous and accurate representation is invaluable when monitoring changes or validating best-practice improvements. Whether you are looking down the aisle, viewing the user interface, receiving automated alerts, or collecting trending data, with Aurora potential issues in critical spaces will not go unnoticed."
Additional enhancements scheduled for release later this month include a New Aurora Ethernet Gateway for ModBus over IP and SNMP support. NER manufactures Aurora in the US and is currently accepting orders for immediate delivery. For more information about NER's products and services, visit http://www.nerdata.com.
About NER Data Corporation
NER Data Corporation is an innovative leader in the demanding, growing, and continually changing Data Center Infrastructure Management and Managed Print businesses. NER offers unique value-add solutions that truly solve business issues and allow reseller partners to develop and maintain stronger relationships with their end-users. Our approach has earned NER a loyal following with North America's leading Resellers, Integrators, VARS, and their Fortune 2000 end-user customers. For more information, visit http://www.nerdata.com.