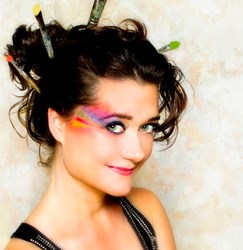 It's all about taking full responsibility for yourself because after all, no one else is going to feed you but you.
Santa Fe, NM (PRWEB) December 10, 2013
Bob Baker interviewed oil Portrait Artist Robbi Firestone for episode fifteen of Baker's Internet TV show, "The Creative Entrepreneur." During the forty-minute webcast, Baker asked Firestone everything from her extraordinary dedication, life as a learning-geek, what she would say to her younger self, and the brilliance behind her recent gallery show, The Spirit of Santa Fe. Firestone responded with candid charisma, educating viewers in what it means to be a creative art entrepreneur.
Firestone has been a practicing oil portrait artist for over a decade, a career she built independently by doing events and hosting charities in her studio. Her success is testament to her creative spirit that finds untraditional avenues for representation.
The Spirit of Santa Fe was admittedly Firestone's first gallery show (this past August at Casweck Galleries in Santa Fe, NM). "It's all about taking full responsibility for yourself because after all, no one else is going to feed you but you," says Firestone.
When Baker asked about her greatest challenge, the portrait artist divulged: the struggles of self-doubt. Firestone, who is incredibly relatable, does something that petrifies her every year on her birthday to overcome her fears. Firestone's audacious plans for the future include an installation at the National Museum of Women in the Arts and a portrait series of the African Maasi tribe.
Robbi Firestone is an oil portrait artist known for her prized "Spirit Capture" portrait commissions, called Spirit Capture Portraits, which deftly reflect her subjects' inner selves, hopes, and dreams, as well as the faces they show to the world. Subjects include Michael Beckwith of bestselling book and film, "The Secret," Bart Millard of best-selling band MercyMe, and 3-time Grammy Winner, Keb'Mo'. Learn more about Spirit Capture Oil Portrait Commissions and Robbi Firestone's work at http://www.RobbiFirestone.com/.
Bob Baker is on a lifelong mission to help musicians, authors and creative entrepreneurs use their talents and know-how to make a living and make a difference in the world. He is a full-time author who has developed a successful niche writing and speaking about music marketing and self-promotion for songwriters, musicians, and bands. He served six terms as president of the St. Louis Publishers Association and is an advocate for the self-publishing movement. Bob's information regarding press, social media, marketing, and publishing is invaluable and Firestone herself continues to take his Guerilla Marketing classes. Check out Bob's free e-zine, blog, podcast, video clips, and articles at http://www.TheBuzzFactor.com and http://www.FullTimeAuthor.com.