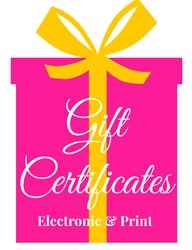 A SolEscapes gift certificate make a perfect gift for someone who has an island vacation, cruise or beach holiday planned.
San Francisco, CA (PRWEB) December 04, 2013
SolEscapes purveyor of exceptional beach, sun and resort essentials, is now offering gift certificates in both printed and electronic format. Finding the perfect holiday gift for a beach lover, cruise enthusiast, or warm weather seeker need not be a challenge. A gift certificate to SolEscapes allows them to choose the warm weather essentials that truly suits them; be it a beautiful sun hat, a luxurious travel towel, a unique jewelry piece or another resort accessory from SolEscapes high quality selection.
A gift certificate or gift card is an opportunity for the recipient to splurge on something that wouldn't otherwise be considered, or to indulge in a luxury - or even a necessity - that has long been admired. Gifting a gift certificate not only gives the opportunity to choose the size, style and color that truly suits the receiver, it also prevents potential returns and exchanges, a post-holiday task nobody relishes. For someone who has an island vacation, cruise or beach holiday planned, a SolEscapes gift certificate makes a perfect gift.
When considering where to purchase a gift certificate, it's easy to fall into a rut, going with an old stand-by rather than something that's uniquely suited for the gift receiver. However, for the avid cruiser, resort goer, beach vacationer, or for anyone concerned about protecting themselves from the harmful rays of the sun, a gift certificate to SolEscapes makes a very personal gift, sending the message that the giver has put a lot of thought into what the receiver desires.
SolEscapes offers two gift certificate options:

A paper gift certificate that will be mailed within 2 - 3 business days.
An e-gift certificate that will be sent via email within 1 - 2 business days.
Purchasing gift certificates via SolEscapes web site is easy. For more information on how to purchase a gift certificate or e-gift certificate, go to SolEscape.com.
SolEscapes gift certificates make thoughtful gifts for Christmas and beyond. A gift certificate to SolEscapes would be welcome on any holiday (Valentines Day, Mother's Day, a Birthday), as a "Bon Voyage" treat, or even as a winter perk-up in January.
SolEscapes is a California based online boutique offering a unique selection of stylish and practical sun, beach and resort essentials for all your warm weather needs. SolEscapes offers personalized service, high quality products and fast, affordable shipping. Merchandise including all sun hats is carefully and beautifully packaged to ensure a perfect arrival. For more information please visit SolEscapes.com. You can also connect with SolEscapes on Facebook, Twitter and Pinterest.