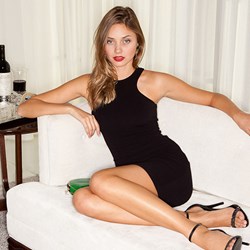 Malibu, CA (PRWEB) December 20, 2013
Moxie Malibu, a new face amongst online fashion retailers, has hit the scene featuring affordable fashion finds for stylish women across the globe. Co-founders Angela Rexroad and Jennifer Knopf have a strong vision to bring trend driven items to women that won't break the bank. Featuring dresses, jackets, pants and even home accessories, this stylish site won't disappoint.
"We felt the market was ready for an online retailer to provide clothing for women like ourselves," said Jennifer. "I was sick of weeding through racks and racks to find that one piece that I could mix in with the rest of my wardrobe, I wanted to find it all in one place without the hassle."
Although there are many affordable online retailers, Moxie Malibu is geared more toward the woman in her 30's or any woman with a chic aesthetic. Anyone can look good in designer wear, but mixing together inexpensive pieces to create a unique style takes talent-and that's where Jenny and Angela come in. The two met when working at a celebrity owned boutique and turned their passion for fashion into a career. Finding a void in the online clothing market, the two came together to create Moxie Malibu, an e-boutique catering to sophisticated fashionistas.
"Our Goal is to keep the clothing current and trendy with new arrivals online every two weeks," says Angela. "We follow all the current trends and bring the affordable version to you."
The site is easy to navigate and there is no hesitation to order with free return shipping and free shipping on orders over $100. There are plenty of fashion blogs that feature trendy styles, but Moxie brings those styles to life and gives women a place to purchase them.
For more information please visit http://www.moxiemalibu.com.
About Moxie Malibu
Moxie Malibu was started in 2013 by two California girls looking to put their passion for fashion into a stylish ecommerce site for women. Lacking ability to find high fashion clothing at affordable prices, they created the e-boutique to cater to sophisticated women. Moxie offers the hottest current trends for women 25-50. Moxie Malibu has recently added a home accessories section featuring unique and trendy home décor. For more information, please visit the home accessories section of the website.