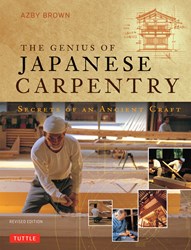 North Clarendon, VT (PRWEB) December 23, 2013
As a narrative and visual account of an extraordinary work of architectural reconstruction underway in Nara, Japan, "The Genius of Japanese Carpentry" reveals the ambition and stunning artistry of a craft preserved in time. The book follows the story of the twelve-hundred-year-old Yakushiji monastery and the dedicated modern-day craftsmen who are working to restore what has been lost to the depredations of time, fire, and warfare. Written by the prolific author, Azby Brown, "The Genius of Japanese Carpentry" is now being published in its second iteration with 140 black and white photos, 67 color photos, and 83 drawings.
In the eighth century, anonymous carpenters first erected the intricately-designed timber temples and pagodas that compose the Yakushiji Buddhist monastery. Then as today, these buildings were considered marvels of architectural elegance and traditional Japanese craftsmanship. Although the full restoration will not be complete until 2030, one of the main temples, the Picture Hall, has been completely reconstructed, employing the original methods, architectural style, and largely the same woodworking technology as its predecessors.
Azby Brown, the director of KIT Future Design Institute in Tokyo, chronicles the Picture Hall's painstaking restoration through photographs, extensive interviews with the carpenters and woodworkers, and original drawings based on the plans of Japanese master carpenter Tsunekazu Nishioka. An inspiring testament to the craftsmen, their dedication to excellence, and their philosophy of work as personal fulfillment, "The Genius of Japanese Carpentry" offers detailed documentation of this singular project and a moving reminder of the humanity that bridges past and present.
Dr. Brown entered the Department of Architecture of the University of Tokyo under a grant from the Japanese Ministry of Education after studying architecture and sculpture at Yale College. After completing his Ph.D., he became an associate professor of architectural design at the Kanazawa Institute of Technology. He is the author of Just Enough, Small Spaces, The Japanese Dream House, and The Very Small Home.
To pre-order "The Genius of Japanese Carpentry," visit the Tuttle website.
About Tuttle Publishing
Established in 1948 by Charles Egbert Tuttle Jr. in Rutland, Vermont and Tokyo, Japan, Tuttle Publishing is the premier publisher of English language books on Asian culture. Today, Tuttle maintains an active offering of books on a wide range of topics, including Asian culture, Asian literature, Asian architecture, Eastern spirituality, gardening, cooking, martial arts, crafts, travel, health and wellness, and fine art for a worldwide audience.