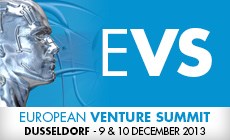 Dusseldorf, Germany & Brussels, Belgium (PRWEB UK) 4 December 2013
European Venture Summit (EVS)
The European Venture Summit (EVS), the continent's biggest venture marketplace, will take place on December 9 & 10 in Düsseldorf. The EVS is organised by Europe Unlimited and hosted by the Ministry of Innovation, Science and Research of the German State of North Rhine-Westphalia and the City of Düsseldorf along with Silver Sponsors NRW Bank, Mobicap Ventures and DealMarket. Returning for the 7th consecutive year, the EVS will draw the top 25% emerging companies from 13 regional and sector-focused semi-finals held throughout the 2013 calendar and will attract 400 participants. 120 upcoming CEOs will pitch their business to VCs and CVCs like Earlybird, Entrepreneurs Fund, Evonik, Gilde, Inventages, Boehringer Ingelheim, Oracle, PHS Fund, Salus Partners, 360° Capital Partners, Aster Capital, BASF, Emerald Technology Ventures, Greencoat Capital, KLM, Robert Bosch, MAHLE, Sofinnova, Syngenta, Total, Creathor Venture, T-Venture, E.ON and many more. The Top 25 companies will be selected based on online and onsite reviews by investors and announced as the winners of the European Venture Contest 2013 during the closing ceremony.
"It has always been our vision and mission to nurture today's ideas into tomorrow's businesses. I believe bringing home the European Venture Contest will provide the right network, pan-European benchmark, international exposure and fund raising opportunities for our innovative companies" - Svenja Schulze, Minister of Innovation, Science and Research of the German State of North Rhine-Westphalia
Interested to join? Sign up as a delegate at http://www.e-unlimited.com/evs
EVS Testimonials
"One VC we pitched to during the event presented us to a Business Angels organisation and we raised capital from them" - Bruno Fernandes, LatitudeN
"Participation in Europe Unlimited Events is the key in raising capital in the Cleantech field today" - Alex Michine, MetGen
"We strengthened our public image by winning the Europe Unlimited awards and we have found partnership with Intel, Texas Instruments and Delphi" - Michel Tombroff, Softkinetic
EVS Format
At the two-day Summit, presenting companies will have up to 8 minutes each to convince a panel of investors about their innovations, scalability and business potential. Added to this will be 3 Plenary Discussion Sessions, 4 Keynote Speeches and Roundtable Discussion Sessions. Furthermore, marathon networking and idea sharing will go on beyond the breakout rooms in personalised one2one meetings, over coffee in the corridors, lunch and dinner. The setting will be hands-on and informal to improve collaboration for everyone.
European Venture Contest NRW (EVC NRW)
The last semi-final of the year, EVC NRW, organised by Europe Unlimited, hosted by The Ministry of Innovation, Science and Research of the German state of North Rhine-Westphalia, BioCampus Cologne and the City of Cologne took place on November 21 at BioCampus Cologne. EVC NRW was organised in association with partner, City of Düsseldorf and silver sponsor, NRW Bank.
The day began with welcome notes from William Stevens, CEO & Founder of Europe Unlimited; Hartmut Thomas, Head of the Institutional Research Funding Branch of the Ministry and Andre van Hall, Director of BioCampus Cologne. Rainer Christine, co-founder of Science to Market Venture GmbH, addressed the keynote. During the day, 31 attending investors and 25 entrepreneurs engaged in investment pitching sessions where every presenter had 8 minutes to convince the investor jury of their business potential, followed by 7 minutes of strategic feedback from the jury. Together they created a strong atmosphere for discussions, and networking and idea sharing went on beyond the breakout rooms.
In total, 39 CEOs from different cities and towns of NRW applied to pitch at the contest and 26 were invited by the selection committee of investors to present at the event. On November 21, the jury of investors and industry experts graded every pitch and selected 20 companies to move on to the EVS. Attending investors included Creathor Venture, Acton Capital Partners, Oracle, Forbion Capital Partners, High-Tech Gründerfonds Management, Peppermint Venture Partners, PHS Fund, Evonik, Finindus, Siemens and many more.
The EVS contestants from NRW are:

22CONNECT
yuNote
Augmentation Industries
MyDay
Uman
QDEGA Loyalty Solutions
Team LIVEcheck
Cube Biotech
CoGAP
Cell´s Kitchen
A2M Pharma
Medical Adhesive Revolution
IPT Pharma
InfanDx
Autodisplay Biotech
Acuity Medical Europe
AIXaTech
NEMOS
GreenPocket
Enbreeze
About the Organiser
Founded in Brussels in 1998, privately-owned Europe Unlimited S.A. provides event and online matching platforms between emerging innovative companies and investors across Europe and its regions, sectors and stages, notably brought together in the European Venture Contest (in its 9th edition this year). Our clients are governments, public-private clusters, corporate and financial investors as well as advisory firms. http://www.e-unlimited.com
In 2012, 850+ applications were reviewed online by investors, 500+ startups pitched at qualifying events and 130 made it to the Final of the European Venture Contest and the European Venture Summit 2012. To date, Europe Unlimited helped SMEs raise over Euro 1.5 billion and promoted more than 2,500 entrepreneurs.
Ends
Note to Editors: Europe Unlimited would be delighted for editorial attendance at the EVS – press accreditations are available.
For more information, contact:
Mashrukh Talukder
mashrukh(at)e-unlimited(dot)com
+32 (0) 2 643 36 81