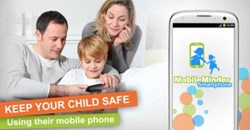 With MobileMinder parental control we have developed the most robust solution to address all of these concerns and put parents minds at ease.
San Jose, CA (PRWEB) December 05, 2013
"We have developed MobileMinder parental control to be the most comprehensive parental control solution on the market today and unlike many other parental control solutions we have made it is so easy to use," said Don Corbett, CEO of LiveMobile.
The original highest ranked parental control application for Android, MobileMinder parental control is back! Now MobileMinder parental control is proud to release MobileMinder 2.0 complete with web-filtering, application control and parent applications for iPhone and Android. MobileMinder parental control gives concerned parents the power to have peace of mind when allowing their kids to use smartphones or tablets.
Children's safety online and on mobile devices has always been the highest concern for parents when thinking about purchasing a phone or tablet for their kid. According to research carried out in the US, 95% of children will have a smartphone or tablet by the time they are 12 in 2015. These devices are basically mini computers in a kid's pocket giving them access to pornography, inappropriate applications and more. This makes parental control imperative for parents who are thinking of purchasing their kid a smartphone or tablet.
"There is no doubt that mobile devices such as smartphones and tablets enhance our children's abilities to learn and most of our kid's friends now have them," said Don Corbett, MobileMinder's CEO. "They are seen as a must-have device. However, parents are now faced with new challenges and concerns such as cyber-bullying, sexting, pornography, game addiction, device usage and more. With MobileMinder parental control we have developed the most robust solution to address all of these concerns and put parents minds at ease."
Unlike other apps, which you just install on your kid's phones and are easy for the kid to bypass, MobileMinder parental control is a cloud based, password protected solution giving parents the ability to remotely monitor their kid's devices. We have developed the MobileMinder parental control browser with our patent pending web filtering technology, creating a completely safe environment for a kid to use the internet without any difficult configurations which other apps use. Parents can block sites based on keywords and categories.
In addition MobileMinder Parental Control has a comprehensive selection of features designed to protect children from the everyday dangers of mobile usage. Location alerts will notify parents, straight to their phones, where their child is and when they have arrived at their destination. SMS and Call Filtering keeps parents vigilant against any signs of cyber-bullying or sexting. MobileMinder's Gallery feature gives parents an effective weapon to combat sexting, and our App Filtering avoids gaming addiction, unwanted credit card bills and countless wasted hours. For more information on our suite of features you can visit http://www.MobileMinder.com.
MobileMinder Parental Control can be downloaded from the Google Play (Android Market) for a free trial and evaluation.
https://play.google.com/store/apps/details?id=com.livemobileco.mobileminder