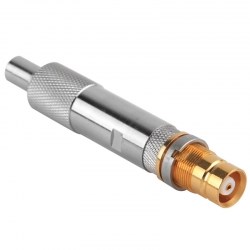 (PRWEB) December 05, 2013
Today, RFcnn.com, a well-known manufacturer and wholesaler of various kinds of baluns, has announced the release of 1.0/2.3 mini baluns. What's more, the officials of the company have decided to launch a special offer on these new products. The promotion will be valid from tomorrow until December 27, 2013. During the promotional period, all the company's 1.0/2.3 mini baluns will be offered at discounted prices, up to 32% off.
RFcnn.com is one of the leading companies in the balun industry. The company insists on deploying strict regulations and quality checks. All its products are offered in varied dimensions, because the officials understand that different customers may have different needs and requirements. It is worth mentioning that the experts from the company work very hard. Their aim is to bring more high quality products at lowest possible prices.
According to the CEO of the company, a mini balun is a pretty device that can convert between a balanced signal (two signals working against each other where the ground is irrelevant) and an unbalanced signal (a single signal working against the ground or pseudo-ground).
"We are happy to announce our new products. We want to bring more convenience to the worldwide customers. We provide the deep discounts to expand our market. Welcome to visit our website and place orders," the CEO says.
About RFcnn.com
RFcnn.com is an online shop of high end devices. It is a China based company that aims to provide customers with high quality products at the lowest possible prices. Customers can try the company's products through sample orders with a long-term contract. Most customers come back soon after receiving their first deals.
More details at http://www.rfcnn.com/Mini-Balun-1-6-5-6-L9-female-to-IDC-AWG24-26-RF-Connector-88.html.