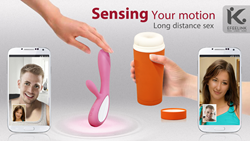 (PRWEB) December 04, 2013
According to the investigation result from EFEELINK, each of three British women has adult toys such as vibrators; 46% of women say that, compared with previous times, they do not feel embarrassed when purchasing adult toys. Recently, a UK company, EFEELINK, has made a comparison of female's favorite sex toys or vibrators from around the world, and recommended 4 different styles of toys. The following is the details of its comparison:
1: Vibrator:
Brand: LELO
Vibrators are the favorite of women all around the world, and the Swedish company LELO is the representative brand. Vibrators are dual-function in common, can stimulate the vagina and the clitoris at the same time, arousing each pleasure point, bringing great enjoyment.
Strong Point: Dual-stimulation brings much more pleasure.
Recommendation Index: 4 stars
2: the G-spot Vibrator
Brand: KEY
The G-spot top design leads to female ejaculation much easier, and brings a perfect pleasure experience. In many parts of the world, the G-spot vibrator became the essential item in a woman's bag. As known, it's difficult to have a G-spot orgasm; yet it became much easier thanks to this small object.
Strong Point: G-spot orgasm is much easier to achieve.
Recommendation Index: 4 stars
3: Eggs:
Brand: OhMiBod
Eggs are used for foreplay. Represented by OhMiBod, a US brand, eggs are now compact, waterproof, and connected with music. The eggs can be used anytime and anywhere.
Strong Point: It's portable, and can be used anytime and anywhere.
Recommendation Index: 4 Stars
4: Remote-controlled sex toys:
Brand: EFEELINK
We must say that this type of product has subverted the traditional toys category; we have no way to give it a definition, such as vibrators or eggs, until someone named it "Remote-App-controlled adult toys". EFEELINK, the high-tech love making product company, realizes that remote sex is very significant. Even two people separated thousands of miles away can have synchronous control, and see results through a video. Long distance lovers solved the problem of distance through this set of toys. A single person can find new romance via APP, which is EFEELINK designed and developed. Mystery and excitement cannot be predicted, which is the essence of life.
Strong Point: Break the tradition, and create a new mode of remote love making.
Recommendation Index: 5 stars
An adult products chain store owner, Julia Gash, says more and more women realize they don't just need a more sexual life, they also need a better quality of sex life. Adult toys will definitely be a good helper for these women.
About EFEELINK
EFEELINK is devoted to designing and creating dual-enjoyment of visuality and sensuality beyond thought based on modern science and technology. Its products are divided into three classes: for male, for female, and for remote interactive section. They are the world's first pleasure objects based on high-tech electron, internet and smart phone. All products' aesthetic exterior and the most body-friendly of designs which contains fashion connotation and exquisite workmanship produce a pleasant visuality and sensuality even better than real feelings between partners. Visit http://www.efeelink.com/ for more details.
Follow EFEELINK at:
FACEBOOK: http://www.facebook.com/efeelink
TWITTER: http://twitter.com/efeelink