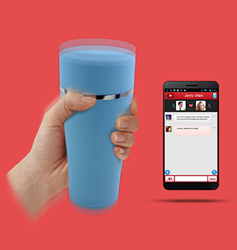 (PRWEB) December 06, 2013
Sex plays an important role for any couple. How to survive a long-distance relationship has become a hot topic among young people. Recently, EFEELINK has announced a set of "long distance adult toys" which can help realize remote love making with the help of smartphones.
In a recent investigation from EEFEELINK, the company has found that some factors play an important role in surviving long distance love:
1. Communication
It is important to maintain an emotional connection for those who cannot stay with his/her partner every day. They should communicate via phone, email, Skype, or other ways. In many cases, long-distance relationships may be stronger than relationships between couples who live together.
2. Remote sex could be a helper between partners who are separated from each other.
Sex is a crucial factor between two lovers. Now, this kind of problem can be solved by EFEELINK products. No matter how far people are away from their lovers, they can make love via EFEELINK products.
EFEELINK products have been divided into two parts: one part is for men, a male masturbation cup, and the other part is for women, a smart vibrator. They look similar to traditional sex toys, but they are different from the traditional ones because a human motion sensor is inside the device. When connected to an APP, the cup can send orders out (such as vibration, insertion and so on); the vibrator will get the signals and reflect that in the women's body. This means that no matter how far people are away from their lovers, they can make love via an EFEELINK product.
3. Sharing tasks
Although they are apart for miles and countries, lovers can become partners. EFEELINK suggests lovers should take part in positive activities as often as possible. Planning or even fantasizing about the next vacation or the short weekend coming up is crucial - it keeps desire and hope in the forefront. Long distance is not necessarily inferior to geographically close dating, and some people in long-distance relationships are reported to feel emotionally closer.
Everyone uses high-tech products in their everyday life for many different reasons. Technology, then, must influence human sexual behavior. EFEELINK is exactly the high-tech love making product company that is devoted to bringing more pleasure to people.
About EFEELINK
EFEELINK is devoted to designing and creating dual-enjoyment of visuality and sensuality beyond thought based on modern science and technology. Its products are divided into three classes: for male, for female, and for remote interactive section. They are the world's first pleasure objects based on high-tech electron, internet and smart phone. All products' aesthetic exterior and the most body-friendly of designs which contains fashion connotation and exquisite workmanship produce a pleasant visuality and sensuality even better than real feelings between partners. Visit http://www.efeelink.com/ for more details.
Follow EFEELINK at:
FACEBOOK: http://www.facebook.com/efeelink
TWITTER: http://twitter.com/efeelink