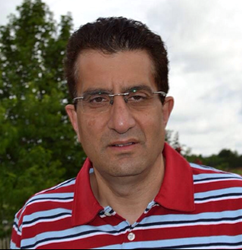 We need to spread the news and take a stand, for our professional and for the safety and well-being of the public.
(PRWEB) December 08, 2013
Leading Manchester dentist Tariq Drabu, who is the owner of the renowned Langley Dental Practice in Middleton, Manchester, spoke today about his concerns that there are still some practitioners treating the public who are not properly registered with the GDC.
Tariq Drabu said, "I am concerned that I am still seeing reports of individuals, claiming to be qualified and registered dental professionals. I acknowledge that the GDC works hard to identify these individuals and to legislate against them, but more must be done to prevent this and keep patients safe". There have been a number of incidents of this in the media recently, one can be viewed here. This article comes from the Dentistry website and was published on the 25th November 2013.
Tariq Drabu went on to say, "It is vitally important that the entire profession stands together to combat against this situation. It damages the good name of dentistry in Britain and it is also a great risk to public health. It takes many years of hard work and commitment to achieve the required qualifications required to practise as a registered dental professional. With these qualifications, dentists have the knowledge and expertise they need to treat patients effectively. Anyone practising without the necessary training could harm a patient."
The General Dental Council is dedicated to tackling this issue and news of successful work to combat it is always welcome within the dental profession, Tariq Drabu told us recently. He continued, saying, "For many years now the dental profession has been concerned by known cases of un-registered individuals who have been been practicing dentistry. It is good to see the GDC working so hard to combat it."
Tariq Drabu continued, "Every time the issue is brought to light, and successfully dealt with, it will contribute to discouraging other unscrupulous individuals from engaging in similar activity". As the renowned owner, and chief practitioner of the Langley Dental Practice in Middleton, Manchester, Tariq Drabu is well positioned to understand the importance of patient dental treatment administered only by fully a qualified, licensed dental professional.
Dr Tariq Drabu said, "Unfortunately, these individuals are attempting to make money form unsuspecting members of the public. Often people are caught out with no idea the practitioner was un-registered and un-qualified."
Dr Tariq Drabu is one of the UK's leading GDC registered dental specialists, and with nearly three decades of dedicated and loyal service to the profession, he understands the important implications of keeping standards high. He also sees the positive impact it will have on the reputation and perception of the profession. He is determined to attract new students to dentistry, and to be instrumental in keeping the profession highly respected within the UK, and the world.
Dr Tariq Drabu went on to say, "We need to spread the news and take a stand, for our professional and for the safety and well-being of the public. By working together we can help to deter fraudulent attempts to practise dentistry. No-one should get away with treating patients without being fully qualified and licensed."
Dr Tariq Drabu explained the current regulations for us. All dentists, dental nurses and auxiliaries, dental hygienists, therapists, orthodontic therapists, and clinical dental technicians must be registered with the General Medical Council in order to legally work and treat patients anywhere in the UK. This legal requirement ensures practitioners have been suitably trained, are fully qualified, and professionally competent. It indicates that they are able to deliver safe and effective dental treatment to patients.
Dr Tariq Drabu is a specialist in oral surgery, leading a gifted team in his own practice. In addition he has spent over a decade teaching and mentoring postgraduate students of dentistry, so he understands fully the commitment and talent required to gain a professional dental qualification.
Dr Tariq Drabu concluded, "The GDC is clearly demonstrating how serious its rules and regulations are. And it is helping to ensure British dentistry continues to maintain its status as a world leader in the profession, with high levels of proficiency and competence amongst all its registered practitioners."
About Dr Tariq Drabu
Dr Tariq Drabu is a highly experienced and well known Manchester dentist and GDC registrant. He is accredited as a Specialist in Oral Surgery by the General Dental Council. Dr Tariq Drabu practices at his Langley Dental Practice in Manchester. Dr Drabu is a leading name in dentistry, with 25 years' experience in both general practice and hospital dentistry. Dr Tariq Drabu is also the Clinical Lead Dentist for Oral Surgery Clinical Assessment and Treatment Services at NHS Heywood, Middleton and Rochdale. He is a specialist staff member at The UCLan Dental Clinic.