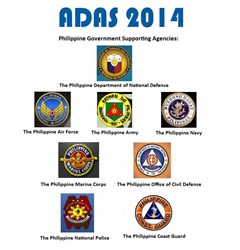 Singapore (PRWEB) December 05, 2013
APAC Expo Pte Ltd, a sister company to GSA Exhibitions Pte Ltd, the Organisers of the highly successful Global Security Asia Series in Singapore, announce the launch of ADAS 2014 - the Defence, Security and Crisis Management Exhibition and Conference to be held at the World Trade Centre, Metro Manila from the 16 to 18 July 2014. This will be the first Defence, Security and Crisis Management Event to be held in the Philippines for more than a decade and is endorsed and fully supported by the Philippine Department of National Defence, the Philippine National Police and the Philippine Coast Guard.
By way of background the Republic of the Philippines is an archipelago of 7,107 islands strategically located in the western Pacific Ocean and has a population in excess of 104 million people. The Philippine GDP grew 7.8% in the first quarter 2013, the highest in the Asia Pacific Region making it officially the fastest growing economy in ASIA.
As a result of this sustainable growth the Philippine Government has recently passed the Modernisation Law allocating PHP331.62 Billion to modernise their Armed Forces, Police and their Civil Defence over the next 15 years. During the period 2013/17 the Government plans to spend PHP75 Billion upgrading and improving their military equipment.
The Government's major Procurement Plans for the next five years include:
o Frigate/OPV/FAC and Patrol Boat Programmes
o Helicopters – Naval / Attack / Heavy Lift
o Strategic Sea Lift Vessels
o Armoured Personnel Carriers
o Long Range Patrol Aircraft
o Attack Aircraft
o Training/Close Support Aircraft
o Coastal / Long Range Surveillance Radars
o C4IStar Systems
o BVR Missiles
o Sniper/Assault Rifles/Pistols
o Communications
ADAS 2014 is therefore extremely timely given the passing of the Modernisation Law and will provide the international Defence, Security and Crisis Management industry with an unprecedented and unique opportunity to promote and showcase their products and services to key decision makers from the various Government Agencies in the Philippines and the Asia Pacific Region and beyond. The Organisers will be working closely with the Armed Forces of the Philippines (AFP), Philippine National Police (PNP), the Philippine Coast Guard (PCG) and the Office of Civil Defence (OCD) to encourage exhibitors to set up meetings with relevant Senior Personnel in order to fully evaluate requirements regarding their upgrade and modernization plans.
Should you require more information, please contact Sandy Wong or visit our http://www.adas.ph.
About ADAS 2014
Asian Defence & Security (ADAS) 2014, the inaugural Defence, Security and Crisis Management Exhibition and Conference will be held in Manila serving the Philippines and the Asia Pacific region. ADAS 2014 will attract international exhibitors from around the world to Manila. One of the features of the Show will be Asia Pacific VIP Delegations invited by the Philippine Supporting Agencies to meet Exhibitors to discuss the needs and requirements of their respective Armed Forces, the Internal State Security Organisations and Crisis Disaster Agencies.
Philippine Government Supporting Agencies:
The Philippine Department of National Defence
The Philippine Air Force
The Philippine Army
The Philippine Navy
The Philippine Marine Corps
The Philippine Office of Civil Defence
The Philippine National Police
The Philippine Coast Guard