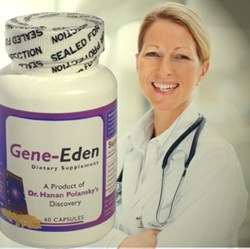 We recommend having any sores checked immediately by a doctor. Further, before a woman becomes pregnant, or after she delivers the baby, we recommend taking Gene-Eden-VIR to help the immune system target the latent herpes virus. – Mike Evans, polyDNA
Rochester, NY (PRWEB) December 05, 2013
A mother can transfer the herpes virus to her baby during a herpes outbreak on the breast. Usually, babies contract a herpes infection when they pass through the birth canal. However, in up to 10% of cases, "the infection is transmitted postnatally (after birth), most often due to direct contact with an oral HSV infection (1)."
"HSV infection of the nipple or areola can be exquisitely painful and tends to present as miniature vesicles (sores) on an erythematous (skin) base. Open vesicles carry the virus, and the virus can then be transmitted to the breastfeeding infant. It is critical to rule out HSV in infants less than 3 months of age because they can develop a life threatening infection involving the central nervous system (2)." This is according to a study published in August 2013 in the medical journal Dermatologic Therapy.
A baby that becomes infected with herpes must be treated with an I.V. that administers the antiviral drug, acyclovir. Thus, it is very important to know if a nipple is infected. As study authors wrote, "It is important to remember that any breast lesion is not a benign cold sore and may be an herpes infection. This presentation is little known and probably underestimated. In cases of questionable breast lesions, a sample should be urgently tested for HSV. If positive, breastfeeding should be discontinued until the resolution of local signs and negativity of samples (1)."
polyDNA recommends helping the immune system to target the herpes virus while it is latent, and before a woman becomes pregnant, or after she delivers the baby.
"We recommend having any sores checked immediately by a doctor. Further, before a woman becomes pregnant, or after she delivers the baby, we recommend taking Gene-Eden-VIR to help the immune system target the latent herpes virus." – Mike Evans, polyDNA
Gene-Eden-VIR is a natural herpes remedy proven in a clinical study to reduce symptoms associated with a latent HSV infection (3). A recent post marketing clinical study published in the peer reviewed, medical journal Pharmacology & Pharmacy, in a special edition on Advances in Antiviral Drugs on August 12, 2013 showed that Gene-Eden-VIR is safe and effective (3).
Each ingredient of Gene-Eden-VIR was chosen through a scientific approach. Scientists scanned thousands of scientific and medical papers published in various medical and scientific journals around the world to identify the safest, most effective natural ingredients that target the latent form of herpes (3).
To learn more about Gene-Eden-VIR and the Epstein Barr Virus, visit http://gene-eden-kill-virus.com/EBV.php. All orders of Gene-Eden-VIR are completely confidential, and no information is shared or sold to any third party. Privacy is assured.
Reference:
(1) Mammary herpes: a little known mode of neonatal herpes contamination. Published in September 2013.
http://www.ncbi.nlm.nih.gov/pubmed/23986091
(2) Dermatoses of the breast in lactation. Published in August 2013.
http://www.ncbi.nlm.nih.gov/pubmed/23914890
(3) Gene-Eden-VIR Is Antiviral: Results of a Post Marketing Clinical Study. Published on August 12, 2013.
http://gene-eden-kill-virus.com/PP_Gene-Eden-VIR-is-Antiviral.pdf
polyDNA is a biotechnology company that develops dietary supplements using the unique scientific method developed by Dr. Hanan Polansky, which is based on Computer Intuition.
In addition to his unique scientific method, Dr. Polansky published the highly acclaimed scientific discovery, called Microcompetition with Foreign DNA. The discovery explains how foreign DNA fragments, and specifically, DNA of latent viruses, cause most major diseases.
polyDNA developed Gene-Eden-VIR, an antiviral natural remedy that helps the immune system kill latent viruses.