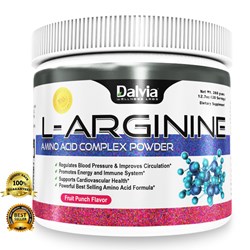 For the first 100 customers who buy at least 2 of the latest Dalvia's L-Arginine Tropical Punch, they will get 20% off their entire order purchase.
Dalvia Wellness Labs (PRWEB) December 05, 2013
Dalvia Wellness Labs, a US-based company known for offering high-end quality health and wellness products, has announced the launch of its latest product – Dalvia L-Arginine Amino Acid Complex Powder, now at Amazon.com
According to the company, this product has been specifically formulated to help people have a healthier heart and body. This is in light of the specific components of L-arginine – an amino acid known to offer great benefits to the heart and other vital body organs.
Studies have shown that L-arginine is an efficient vasodilator, making it beneficial for blood circulation, cardiac health and workout recovery.
As it is, the company believes that having the proper amounts of this component in the body can actually help prevent angina, chest pains, blood clots, clogged arteries, high blood pressure, pre-eclampsia (for pregnant women), coronary heart diseases and other heart issues.
Accordingly, other findings have shown that aside from its heart benefits – L-arginine can actually help in other health aspects as well, specifically: maintaining balance in the body, wound healing, building muscle mass, growth regulation, boosting the immune system, resolving sexual dysfunctions and many others.
Livia Mercer, spokesperson of Dalvia Wellness, explained that although L-arginine can be found in the body – certain factors such as food intake, lifestyle and physical illnesses can actually diminish its presence in the body.
She added that people can try to ingest food products that are known to help boost L-arginine in the body. Dairy products, plant and animal proteins, fish, poultry and meat are just some of the foods that can help in L-arginine production and use.
She explained that Dalvia's L-arginine Complex Formula comes in powdered form, making it possible for users to adjust their dosage, as needed. However, she suggests that it would be best to consult a doctor first before making any dosage adjustments, to accurately determine the proper amounts that must be consumed.
Mercer revealed that their latest product release complies with the strictest industry standards – making it safe for use. She adds that their products are manufactured under strict GMP (Good Manufacturing Practice) rules and guidelines. Dalvia Wellness L-Arginine Amino Acid Complex Powder is sold exclusively through Amazon.com and even though it's a new product for Dalvia, it's been getting rave reviews.
Those who have tried the product have attested that its fruit punch flavor has helped eliminate the bad taste that is normally associated with L-arginine powders. As it is, they claim that it made it easier for them to ingest the product and avail of the benefits it offers, such as better cardiac health, increased energy and many others.
According to Mercer, the Dalvia Wellness L-Arginine Complex Powder Mix Formula contains the following ingredients: L-Arginine, L-Lysine, L-Carnitine, L-Glycine, L-Ornithine, L-Tyrosine and other beneficial ingredients.
Incidentally, Dalvia Wellness announced that it is having a Bulk Sale Promo until Dec 25th 2013 at Amazon.com. For the first 100 customers who buy at least 2 of the latest Dalvia's L-Arginine Tropical Punch,they will get 20% off their entire order purchase. To take advantage of this offer, interested parties are encouraged to use the Amazon coupon code "ARGININE" during checkout.
About Dalvia Wellness Labs
Dalvia Wellness is an esteemed USA-based wellness company that offers health products to people from all over the globe – all for the purpose of helping others find the road to better health and overall well being.
To know more about Dalvia Wellness L-Arginine, please the product page direct at:http://www.dalviawellness.com/products/l-arginine-powder-complex/. To know more about the Dalvia Wellness L-Arginine Powder Complex Mix Formula, visit http://www.amazon.com/gp/product/B00F3SGYUE for details.