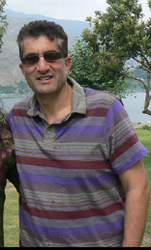 It is wonderful to hear of the latest advances in dentistry being taught in another British academic institution.
Middleton, Manchester (PRWEB) December 06, 2013
Dr Tariq Drabu told us recently how pleased he was to see a comprehensive selection of Dentistry courses being offered by Plymouth University. Dr Tariq Drabu Dentist and owner of the leading Langley Dental Practice which is based in Middleton, Manchester. In addition, for over ten years he has been teaching and mentoring postgraduate students of dentistry.
Quality education is something Dr Tariq Drabu Dentist at the Langley Dental Practice believes strongly in. He is an advocate for providing the very best training and educational courses in Britain in order to develop what he believes, are arguably the world's finest dentists. The news of Plymouth University's new postgraduate dentistry courses was announced widely recently in a series of articles, one of which can be viewed here.
Referring to the article Dr Tariq Drabu Dentist at the Langley Dental Practice said, "By offering the choice of Postgraduate certificates, diplomas and Masters Degrees, Plymouth University is giving students an opportunity to develop skills in dentistry, and climb the steps toward academic and professional success, one step at a time. This is wonderful news for British dentistry."
The new diploma includes a variety of specialist courses, like advanced restorative dentistry. Students can choose to study on courses with durations of six months right up to three years for the full MSc. Dr Tariq Drabu has worked hard throughout his career as a Dentist to provide guidance, training, mentorship, and education for new up-coming dentistry professionals. He takes pride in helping young people to build a successful career as professional dental specialists.
Dr Tariq Drabu Dentist at the Langley Dental Practice went on to say, "It is wonderful to hear of the latest advances in dentistry being taught in another British academic institution. The students can learn all about the latest advances in endodontics, periodontology and more. I believe the course commences in January 2014, and I am sure many of us within the profession will be eagerly awaiting news about the progress of the first class of lucky students."
Dr Tariq Drabu, Dentist and teacher, has over 25 years' experience caring for patients in his general practice, and as a respected specialist in oral surgery. He is also well known as an accomplished teacher and mentor in his own right, having helping hundreds of postgraduate over the last 10 years.
Dr Tariq Drabu is dedicated to the continuing growth in excellence for dentistry studies in Britain, and often demonstrates this by generously giving his time and expertise to help the next generation of dentists achieve their own academic dreams.
Dr Tariq Drabu Dentist at Manchester's Langley Dental Practice closed by adding, "I wish all the faculty and staff of Plymouth University well as they embark upon delivering these excellent courses. I also wish the incoming students of 2014 the very best of luck and good fortune in their studies and future careers."
About Dr Tariq Drabu
Dr Tariq Drabu is a highly experienced and well known Manchester dentist and GDC registrant. He is accredited as a Specialist in Oral Surgery by the General Dental Council. Dr Tariq Drabu practices at his Langley Dental Practice in Manchester. Dr Drabu is a leading name in dentistry, with 25 years' experience in both general practice and hospital dentistry. Dr Tariq Drabu is also the Clinical Lead Dentist for Oral Surgery Clinical Assessment and Treatment Services at NHS Heywood, Middleton and Rochdale. He is a specialist staff member at The UCLan Dental Clinic.