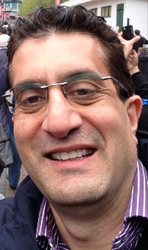 (PRWEB) December 07, 2013
Tariq Drabu is a Manchester based dentist and owner of the renowned Langley Dental Practice. He recently welcomed the announcement of new advances in denture technology being developed by Knight Dental Design. Dr Tariq Drabu is a leading specialist in dentistry and highly respected within the British Dental profession. He has been a leading light in dentistry for nearly three decades and divides his time between treating patients in his general practice, providing specialist hospital dentistry, and providing teaching and mentorship to dentistry students.
In Manchester, Tariq Drabu was speaking about the recently published news indicating that Knight Dental Design is set to be one of the first British Dental Laboratories to become a JUVORA Certified partner. The news was published on 28/11 by The-Dentist.co.uk, and the article can be read here.
Dr. Tariq Drabu, Manchester Dentist, went on to say, "This is excellent news. This will give dental specialists the chance to offer patients the very best dental treatment using the latest developments in partial and removable denture technology. It will allow denture specialists in Britain to stay one step ahead of their colleagues elsewhere in the world."
Tariq Drabu, based at the Manchester Langley Dental Practice, is particularly pleased that patients will directly benefit from these technological advances. He went on to say, "Knight Dental Design was the winner of the prestigious UK Dental Laboratory of the Year award in 2013. The laboratory is known for using state of the art technology, design techniques, and innovations to develop and manufacture the finest dentures and bridges which are robust, strong and expertly finished."
Dr. Tariq Drabu, Manchester Dentist, believes this news is not only excellent for patients, and for British Dentistry, but it is also good for the UK economy. Also, as a dedicated teacher of postgraduate students, the Doctor believes rewarding excellence and innovation within any area of the dental science will strengthen the profession as a whole. For many years he has been a strong advocate for high quality educational practices using the latest technology and advances in dental science.
For his own practice in Manchester, Tariq Drabu intends to always provide the best treatments by using the latest advances in dentistry with the finest materials. He believes it is why his practice is consistently chosen by clients. Every level of care and attention to detail is given to each patient. Dr Tariq Drabu believes the dental professional can only benefit from investing in his or her own future by using the very best of British made technology in all specialist areas of dental treatment.
Dr. Tariq Drabu closed by saying, "The JUVORA Certified Partner Status is a wonderful achievement. I would like to congratulate Knight Dental Design. Only companies that have achieved the highest levels of professionalism, expertise, and creativity have received this accolade. This is a true indication of the quality of materials Knight Dental is producing. I believe that using the latest technology and the best materials helps me to give my patients the finest dental treatments."
About Dr. Tariq Drabu
Dr. Tariq Drabu is a highly experienced and well known Manchester dentist and GDC registrant. He is accredited as a Specialist in Oral Surgery by the General Dental Council. Dr Tariq Drabu practices at his Langley Dental Practice in Manchester. Dr Drabu is a leading name in dentistry, with 25 years' experience in both general practice and hospital dentistry. Dr Tariq Drabu is also the Clinical Lead Dentist for Oral Surgery Clinical Assessment and Treatment Services at NHS Heywood, Middleton and Rochdale. He is a specialist staff member at The UCLan Dental Clinic.